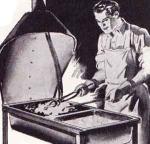 We've received quite a few questions about the new World of Warcraft TCG Player Crafted Items – specifically "How the heck do I get my hands on them? – and so we decided to make this one stop shop for all your TCG crafting needs. We break down the cards you need to collect, the items that are available to craft, and the mailing instructions on how to get them in your hands all in this easy to read reference pamphlet! So create a bookmark and enjoy.
Overview
The theme for the crafting program stems from the crafting system of the original World of Warcraft MMORPG: players in the game collect goods off of fallen monsters, or skin freashly killed animals, or pick herbs – all of which can be combined in specific formulas to produce player items. These items include Armor, Weapons, Potions, etc.
In the WoW TCG, just replace "animals" and "monsters" with Booster Packs, and there you go! Players collect trade goods cards contained within Booster Packs, and then combine them (mail them in) and UDE will award the player an item card. This first series is limited to special WoW TCG Armor cards and two Weapons which are all quite powerful, and we hope in future iterations – which there will be – the crafting will expand further, potentially releasing new potions and even stronger variety of weapon types.
The cards in the crafting system are all Purple - which means that they're super rare, epic even. . It also implies they're good, and thankfully they really really are a cut above the rest. Read on for more details.


Continue reading:
"World of Warcraft TCG Crafting Guide 2007"
Critical Gamers Staff at
Permalink