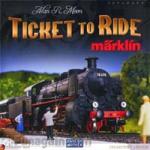 Days of Wonder's latest installment to the popular Ticket To Ride series Ticket to Ride: Märklin is now available from the official online website. The website lists a price of $39.95 for their own personal stock. FunagainGames.com will ship the product soon (they're currently only in the preorder stage right now), for a considerably cheaper price of $31.95.
The titles of the Ticket to Ride series have been received incredibly well by the gaming community as a whole. Ticket to Ride is known for it's approachable and fun gameplay. If you have even a tad of rail baron blood in you then do yourself a favor and check-out this short visual overview of the game (it's one of 'dem der new fangled Moving Picture machines).
If you're afraid that a movie box might steal your soul then take a Geritol, sit back, relax, and read this peaceful analog gist instead.
Too much? Here's our short short-version: Players of Ticket to Ride construct a personal rail network with a secret agenda during the age of steam. The goal is to earn victory points by successfully routing trains to various cities on the board. Ticket to Ride is played on maps of well-known geographical regions, specifically the battlegrounds of the the great rail wars that took place in the 19th century United States and Europe. Ticket to Ride: Märklin ships with a new board of Germany, and adds two new freight types: passengers and merchandise. Here's the official skinny:
The Company Line: Ticket to Ride - Märklin Edition is the third installment in Days of Wonder's best-selling boardgame series that has won 14 international game awards, including the prestigious Spiel des Jahres. The boardmap for the Märklin Edition is based on a map of Germany and introduces Passengers and Merchandise to the Ticket to Ride gameplay.
Passengers are used to pick up merchandise worth different numbers of points along the routes that they claim. Varying stacks of merchandise tokens with different point values are placed next to the different cities on the map. Players can place one of their 3 Passenger tokens on any city along a route that they claim. On his game turn, the player can choose to then move one of his passengers from the city it currently occupies along any or all of his continuous routes, picking up Merchandise Tokens from each city he moves through. Of course he'll always take the highest remaining tokens. The point total of the tokens is then added to his score.
Sounds fun.. just watch out for German Hobos. No matter what they say, their "Hobo code" does NOT apply to outsiders, and they'll certainly cut you faster than you can say "Landstreicher!".

Learn more about Ticket to Ride on the game's official website.
Critical Gamers Staff at
Permalink