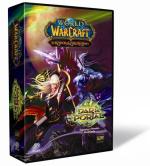 It was only a matter of time, really. In a world where a trading card game spawns from a virtual online entity, you should have been scratching your head wondering why this wasn't started at the game's original launch last year. But now we're at the eve of the second set, and Upper Deck is starting to roll out a community friendly underground marketing tool to do things right this time around. And we're pretty excited, because now we can hear words of wisdom directly from the mouths of the game's designers. And that's never anything to shake a stick at.

The inaugural podcast [link] interviews Brian Kibler – Lead Developer of the WoW TCG – about the upcoming release of the WoW TCG Through the Dark Portal expansion. Can't say that we're not surprised since the expansion is set to ship Wednesday, April 11th – in 5 days.
Specific Topics include the new paradigm of WoW TCG set releases, which should be released every four months from now on, the adaption of new class abilities like Dual Wield, and their ideology of translating the established content from the MMORPG while keeping it fresh, and new in the TCG.
The hosts also discuss the new Racial Champions that will be in the upcoming release. These guys are powerful ally cards that can only be played by particular races. The goal is to make each race/class combination unique, and bring a bit of story and gaming context to the various races of Warcraft in the TCG. Currently they're just pretty pictures, so this is a step in the right direction in our opinion.
Also this week: the Upper Deck website has posted new official articles around the new upcoming Through the Dark Portal set:
Head of the Class: Rogue Boost: details the new Rogue hero cards, some of their new abilities. More interesting - though - is how the existing abilities from the Heroes of Azeroth block will complement the new cards in Through the Dark Portal.
Back to the Future: breaks down how the class/faction specific cards really open up now that the Allies can play Shamans, and now that the Horde can build Paladin decks.
Have a good weekend!

Critical Gamers Staff at
Permalink