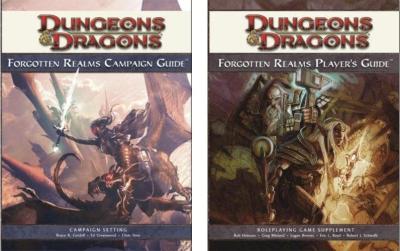 Sometime around nowish your D&D; party should be climbing out of Thunderspire Labyrinth, rubbing their light-adjusting eyes, brushing off the dust, and thirsting for more action. You have two options before you - continue the main story of first series of modules by playing the third release Pyramid of Shadows [Amazon], or clean the slate and set off an entirely new campaign in a new fully flushed out world - The Forgotten Realms.
In our humblest of opinions FR is classic bliss. Its the first campaign setting we were acquainted with when we struck out and played D&D; so many, many moons ago. It also served as the backdrop to some of our favorite Computer RPG adaptions, including Pool of Radiance, Curse of the Azure Bonds, and the Baldur's Gate and Icewind Dale series.
And we're darn glad it's back, and in a nice, compact way to boot. Wizards of the Coast has decided to release core campaign materials in a few upfront books, and expand on that with new mythos and monsters in the D&D; Insider. That means there's very little you'll need to fork out cash for to have a solid, core understanding of all the inner workings of Forgotten Realms from the get go.
For DMs there's the Forgotten Realms Campaign Guide [Amazon] which lays out everything you need to know to craft your own Forgotten Reams adventures. From cities, to creatures, to social folkways and a knowledge of the Faerun's various factions.
Players can also pickup the Forgotten Realms Players Handbook [Amazon] which has all the information needed to tackle adventures in the world. Included is a new character class the Swordmage who slices and fries his way toward bloody, toasty victory (so long as your DM isn't a punk).
All this comes on the eve of a new series of modules set in the Forgotten Realms campaign setting. The first being Scepter Tower of Spellgard [Amazon], which is slated to hit shelves on September 16th. Get ready.
Here's the Forgotten Realms Campaign Guide official details:

---

"Welcome to Faerûn, a land of amazing magic, terrifying monsters, ancient ruins, and hidden wonders. The world has changed since the Spellplague, and from this arcane crucible have emerged shining kingdoms, tyrannical empires, mighty heroes, and monster-infested dungeons. The Forgotten Realms Campaign Guide presents a world of untold adventure; a land of a thousand stories shaped by the deeds of adventurers the likes of which Faerûn has never seen before.

This book includes everything a Dungeon Master needs to run a D&D; campaign in the Forgotten Realms setting, as well as elements that DMs can incorporate into their own D&D; campaigns. The book provides background information on the lands of Faerûn, a fully detailed town in which to start a campaign, adventure seeds, new monsters, ready-to-play non-player characters, and a full-color poster map of Faerûn."

---

And the Forgotten Realms Players Handbook details:

---

"The complete guide for building Forgotten Realms characters!

The Forgotten Realms Player's Guide presents this changed world from the point of view of the adventurers exploring it. This product includes everything a player needs to create his character for a D&D; campaign in the Forgotten Realms setting, including new feats, new character powers, new paragon paths and epic destinies, and even a brand-new character class never before seen in D&D;: the swordmage!"

---
Critical Gamers Staff at
Permalink