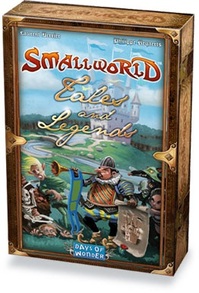 Days of Wonder has announced another expansion to its award winning Small World [Amazon, Funagain] board game. Tales and Legends features a new deck of event cards to add a flavored twist to each turn, and was also spawned from the user homebrew contest that was sponsered last year, which was the catalyst for the game's three mini expansions last fall.
It seems that designer Philippe Keyaerts has also played a part in polishing up the expansion for a mass market release.
Here's a snippet from the press release:
---

"Days of Wonder announced Small World - Tales & Legends - an expansion to the award-winning board game in which players vie for conquest and control over a fantasy world that is simply too small to accommodate all the zany characters that inhabit it. This expansion introduces 54 large-format Event cards that can dramatically change the storyline of Small World. Each Tales & Legends Event card features a unique illustration that matches the light-hearted fantasy theme.

Event cards are organized into 6 different themes, each with its own unique flavor. The cards are also rated by their impact on the game: Little Lore cards have only a minor effect; Tall Tales have worldly consequences; and Lordly Legends are guaranteed to turn your Small World upside down!

Tales & Legends is easily integrated into the game play. At the start of each turn (except the first) a new event card is drawn and put into play. The next Upcoming Event is also visible, so players know what faces them on the next turn. Two blank cards have been included, enabling players to create their own Tales & Legends events."

- Days of Wonder

---
Small World Tales & Legends is slated for release this July.
Critical Gamers Staff at
Permalink