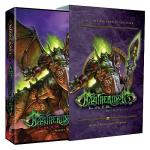 The WoW TCG Magtheridon's Lair Raid Deck has been released, and is now available from Amazon and Funagain Games. For more released information click here.
Boy howdy - it feels odd to start typing 2008, but it's just around the corner. And on just the other side of the new year comes the long awaited - and delayed - release of the WoW TCG Magtheridon's Lair Raid Deck [Amazon, Funagain].
We can't wait to get our hands on it and stomp our overachieving heroes into juicy bits of goo. With every expansion release our decks have become more lean and mean, violent (we love the Horde) and powerful. The Molten Core was a challenge, but we still tackled it with our 5 elite heroes built off the first two sets: Heroes of Azeroth and Through the Dark Portal. Since then our decks have become even more stack with powerful cards from the Fires of Outland and the latest March of the Legion expansion, which really takes the game to the next level. Hopefully Magtheridon's Lair can keep pace.
Here are the the official details :

"You've taken down the dreaded Onyxia, and you've taken Ragnaros's mace from his dead grasp. But what are you going to do against a pit lord so powerful that Illidan has to keep him locked up? Well, you're going to have to figure it out quickly, because on January 8, the third WoW TCG Raid deck is hitting shelves. Players will have to figure out how to deal with Channelers, Abyssals, Manticron Cubes, and one big, angry Demon. You'll have to try new strategies and work around the exciting new mechanics if you're hoping to take down Magtheridon to get your hands on some of the twenty exclusive new treasure pack cards. "

Critical Gamers Staff at

Permalink