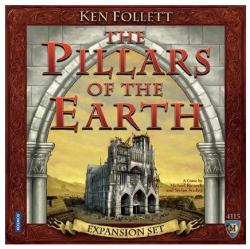 It's been a long time coming. The Pillars of the Earth - a board game adaption to the best-selling historical fiction novel - was one of our favorite titles of last year. Instead of being just washed up adaptation of a novel and just another cathedral builder, it introduced new turn mechanics, interesting resource gathering and construction mechanics, and it's simplly put: a blast to play.
But there was one drawback - it only supported 4 players, and since we usually have 5+ players at our table, The Pillars of the Earth was regrettably pushed to the bottom of our gaming stack. But thankfully, not anymore.
The new The Pillars of the Earth Expansion Set [Amazon, Funagain] ups the player count to a potential 6 while also adding more characters from the Ken Follett masterwork to the workers and event cards. In fact, 30 more cards are added The evil William Hamleigh now makes an appearance, and new mechanics and a hefty board expansion provides hooks for a player to take on the new role of tax collector, or to send architects to France for inspiration in cathedral design, or even help out the king and church by joining the Crusades.
The goal remains the same - be the most influential resource gatherer, builder, artist, or even merchant through out the lifespan of the construction of Kingsbridge Catheral, by whatever means possible. The original title was a blast in the exercise of player adaptability in a turbulent turn structure, and now with even more options on the table, Pillars of the Earth should shine even brighter than ever before.


Continue reading:
"Pillars of the Earth Board Game Expands to 5-6 Players"
Critical Gamers Staff at
Permalink