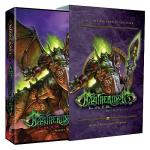 With the ruined embers of the Molten Core glowing in a smoky pile behind us it's time to look forward at the next WoW TCG Raid Deck experience coming down the pipe this fall.
We're quite excited about the news of yet another raid deck relase, as you can tell by us looking months into the future of scheduled WoW TCG goodness with wondrous eyes. But despite our enthusiasm for the WoW TCG as a whole, not everything in its future burns hydrogen and smells of roses. Magtheridan's Lair Upper Deck is taking both a very large step forward, and a step back at the same time. And if your glass is half empty like ours is, then unfortunately we have to warn you: the way we see things neither of these steps are confidentially placed in the positive direction.
The release of Magtheridon's Lair [Toywiz, Funagain] marks a curious leap forward and departure from the standard line of World of Warcraft raid progression. The set of raid dungeons of the World of Warcraft MMORPG have a standard ramp up in difficulty, starting with Onyxia, then The Molten Core - as you know. From here the progression continues through darker and more challenging encounters in the dragon infested spire of Blackwing Lair, the sandy bug tunnels beneath The Temple of Ahn'Qiraj, and then high above the plaguelands on the floating undead city of Naxxramas.
With the Upper Deck designers' decisions to quickly move the WoW TCG into the new world of Outland – opened by the Burning Crusade WoW MMORPG expansion and the Dark Portal WoW TCG expansion earlier this year - there's just no time to go back and redo all three years of WoW raid content that came before.
Quite the shame, really, because things really started to get interesting within the themes and boss battles that took place AFTER the Molten Core. We can't say that we're a huge fan of this move, since Upper Deck seems to be shoving a lot of fantastic content out an open window and into a dumpster. Still, it's somewhat understandable -- the WoW TCG wants to keep some freshness and parity to the MMORPG. Perhaps there will be a time when Upper Deck goes back to recreate these older Raid dungeons, but with the accelerated progress in content of the WoW MMORPG, we're not counting on it.


Continue reading:
""Magtheridon's Lair" WoW TCG Raid Deck"
Critical Gamers Staff at
Permalink