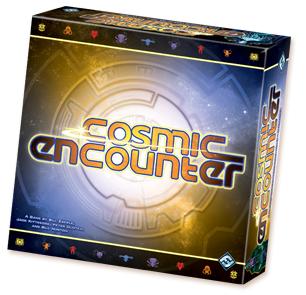 One of our favorite publishers Fantasy Flight Games - makers of Tide of Iron and the upcoming Battlestar Galactica board game - have announced a remake of the classic Cosmic Encounter for a late 2008 release. Even better, they've launched an Cosmic Encounter website.
Cosmic Encounter has traditionally been one of those games from the late 70s who's gameplay today still doesn't seem antiquated and cumbersome like some other hit titles from that period. The base rules are quite simple - use your armies to conquer five different planets outside of your home system. Each turn your randomly assigned another player to attack. You can persuade other players to lend their strength to help you defeat the other player. while your opponent can also lobby the player base to come to his or her own aid. The game is a mix of empire building, diplomacy, and luck.
But the game really shines in the powers that you're assigned. While the rules are simple, these alien powers go out of the way to break the standard rules of play in some very interesting ways, and extending the game by mixing and matching multiple cards can really make each game entirely different and incredibly enjoyable.
And while the launch of the Cosmic Encounter Website contains very little information, it does preview the first of these abilities: "Mind." Here the ability is fairly straight forward - peer into anyone's hand of cards before allies are invited into a battle. Foreknowledge of your enemies' capabilities is essential, but is it not just as important to know if your potential ally is a dud? Why commit forces to a conflict and diplomatically align yourself in process when your 'friend' may shoot corks instead of bullets? The Mind is a wonderful thing, especially when it can reach out and evaluate and predict the resolution of conflicts before they transpire. Plans within plans.
We'll have more information about what's in this version compared to the latest version of Cosmic Encounter as this new version gets closer to release, currently slated for December. Here are the official details so far:
---

"One of the classic science fiction board games returns from the warp in a brand new edition from Fantasy Flight Games!

A game that has endured for over 30 years, Cosmic Encounter has players take on the role of one of 50 different alien races in a struggle for cosmic supremacy, each armed with a unique and game-changing special power. No matter which alien they play, the players must use force, cunning, and diplomacy to ensure their victory."

- Fantasy Flight Games

---
Critical Gamers Staff at
Permalink