Napoleon Total War for PC [
Amazon
]
Sweet day of days. Last year we fell in love with Empire Total War, an 18th century turn-based board game mixed with real time tactical combat simulation chalk full with musket fire, mortars explosions, cavalry charges and fleet actions. Usually a year late the Creative Assembly produces an expansion pack with new maps and new campaigns, but this time they've taken a much larger step forward.
Today the series tackles the story of Napoleon Total War [Amazon] as the French Emperor marches through early 19th century Europe. The game is told via three new campaigns: Italy, Egypt, and the continental map of Europe. Standing in his way is a coalition of forces with such major players as England, Prussia, Austria and Russia. Play as either Napoleon in his epic military campaign (and try to do him one better) or try to successfully put up a road block bring France down to its knees.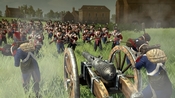 The game also iterates on the already incredible tactical battle engine and campaign engine. For one, and perhaps the most exciting, Campaigns can be played with 2 people over the Internets. You can play either cooperatively or competitively on the campaign map, forging improbable alliances or sticking with this historic stuff - it's up to you. And on your turn, if you strike a battle with an opponent, your friend will control the opposition on the battlefield while you try to carry the day. Nobody sits there with bored eyes waiting for a battle to end; everyone is involved.
Other new features include more smoke effects, better garrisons of buildings during firefights, new troop types, better technology, a narrative campaign, a new suite of 19th century historic battles, unit attrition in enemy territories, and nuanced campaign maps including mountain pass choke points, four seasons to the year, and a higher level of detail.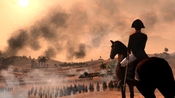 The game came out today.. so you might be asking yourself how we could know all this stuff. Well the software team behind the game has published a series of preview movies like the one above. Give them a gander, they're well worth your time:
We'll quickly let you about our initial impressions of this Total War installment near the end of the week. If we're enthralled, then we'll post another series of Empire Total War Tips to go along with it.
Until then, enjoy the viewings!
Critical Gamers Staff at
Permalink