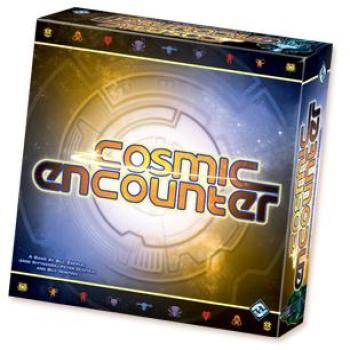 The original Cosmic Encounter was a classic romp of negotiation and quick, simple galactic warfare the took half skill, half luck, half negotiation, and very little math to win - and that's why we liked it. The game was quick, had few pieces, and was one of those all around classic 1980's games that held up over numerous repeat plays, and never panned out the same way twice.
There have been numerous revisions of the game over the years, as the title jumped from publisher to publisher, but each one fell short in one fashion or another compared against the background of its original predecessor. It became common for fans to mix the rule and pieces of various iterations to create their own Frankensteinian hybrid that's fit enough to live up to the title.
This time around it's Fantasy Flight's turn, and everything is top notch in true FFG fashion. Cosmic Encounter 2008 [Amazon, Funagain] remains a card game at heart, where players spend cards form their hand to win over an opponent's star systems in a battle royal each turn. The diplomacy edge comes from players petitioning their friends to join in the fight, either helping to conquer new territory for their mutual benefit, or to come into the defnese of a player so that another competitor doesn't get too big of an edge in the overaall game. Cosmic Encounter ends when a player controls enough systems. Easy Peasey.
The game throws curve balls with the selection of 50 alien races, which give certain players specific powers. The powers span the range of replacing destroyed ships, limiting the number of strength cards a player can contribute to a battle, or even changing the end game rules. The Masochist - for instance - wins if all his ships are destroyed. Crazy. Expansions will certain be on the way with even more crazy powers to cause controlled chaos tot he game.
If you're looking to learn more, then we highly recommend a pair of video reviews from board game review czar (in the good way) Tom Vasel from The Dice Tower. They're aptly named: Cosmic Encounter for Newcommers and Cosmic Encounter for Veterans, Both videos well worth your time if you're looking to be sure you want to relive some of your best childhood gaming memories. Hey - we know sometimes things don't pan out so well when they're revisited 20 years later (OMG, actually 30 years! We're old). Thankfully the latest Cosmic Encounter pans out wonderfully.
Critical Gamers Staff at
Permalink