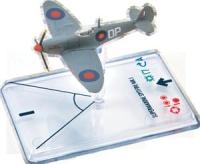 The Wings of War

table top game made the slick transition from 2D card game to 3D miniatures a while ago without ever missing a beat. But now the miniatures have made that fantastic jump from from the original knights of the sky dogfights of the First World War, into the boom and zoom dogfights of the Second. We have respect for WWI themed, because there really isn't much out there about that war. Still, we're ready to admit that we're shallow, and with this one step of migration from WWI to WWII, we're now entirely interested in this game.
Wings of War is a pretty unique sort of game. Players pit fighters against one another in a aerial dogfight that exists as far as their table allows. Traditionally each fighter was represented as a card, but with the somewhat new addition of miniatures -- the game takes on a life of its own.
Players then play maneuver cards from their hand, laying them on one of the edges of their fighter, and repositioning their fighter exactly where the card displays. Picture yourself putting a card down in front of your plane which moves your plane forward but also makes a 90 degree turn to the right. You place your fighter where the arrow points, and your turn is done. And so with the cards in your hand, you jockey for firing position against your enemy, who's doing the same.
There have been many card sets, with different maneuver styles and a large collection of fighters. The game has both dabbled in WWII (traditionally it was WWI) and dabbled with miniatures, but now - at last - both WWII and miniatures are converging.
And both the WWII buff and the Gamer buff are really freaking excited.
For more information about the upcoming WWII Minatures, check out "The Heroes of the Sky Come to Life Once More" story on Fantasy Flight Games, and keep an eye on the official Wings of War website. So far we know that the Supermarine Spitfire and Messerschmitt BF109 will be part of the first release. The classic turn fight v boom and zoom Battle of Britain coming right at ya.
The WWII Wings of War Miniatures will be released in Summer 2009. We'll keep you posted on the details as they emerge.

Critical Gamers Staff at
Permalink