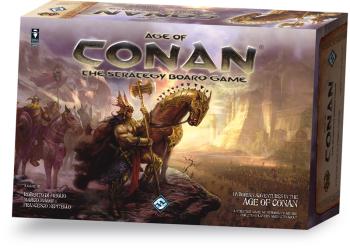 World has it from Fantasy Flight Games that the Age of Conan [Amazon,Funagain] board game is done, shrink wrapped, and heading out on flat bed trucks even as you read this now. That means the title should be in stores as early as next week. And it's about time; the game was originally slated for release a year ago. But good things take time, and we're really hoping this one is really, really good.
Age of Conan is done by the same board game group who made the War of the Ring games for the Lord of the Rings franchise. That was a game of deep strategy, luck, massive battles, and often putting everything on the line to just get that one inch closer to victory. Age of Conan seems quite similar, with a grittier setting, and the complexity scaled back a bit with turns being more streamlined.
Of all things, that list bit - about the streamlining - is a welcome change. There was a bubble of FFG titles that were a bit over the top with the painstaking turn length and rules in the mid 2000s. War of the Ring and World of Warcraft became too much of a burden to play after a while. Devoting an entire day to game with such random elements - albeit often an awesome epic struggle - is just not in the cards for us these days. Perhaps we've tired of games like that, or gotten older and slower, or both.
So if you're like us then perhaps you should delve into the preview content of the game over the weekend. There are some general Age of Conan details here, even better are a series of Feature Articles that published on the game's Official Website:

Well let you know when we start seeing Age of Conan [Amazon,Funagain] in stores. Till then - have a good weekend.
Critical Gamers Staff at
Permalink