Empire Total War Demo Debuts on Steam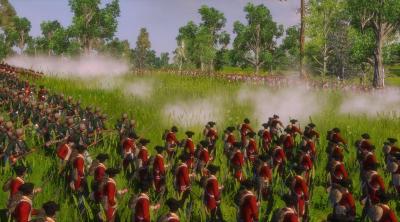 Long time readers know that we're avid fans of Creative Assembly's Total War Franchise

for the PC. Well in just over a week's time, the new installment Empire Total War [Amazon] hits shelves, and we'll be knee deep in marathon sessions of Imperial Age warfare - both on tactical and strategic levels - from the very moment the game is released.
Those thirsting for some of the tactical action right right must no longer wait: the Empire Total War Demo is now available on the Steam download service. It includes two battles: the American Revolution Battle of Brandywine Creek, and the naval Battle of Lagos.
The naval battles is a new feature for the Total War games, and though it depicts an English fleet against a mass of French vessels, the demo's scenario still lacks certain acoutremonts to bring the system to life. We would like to hear more atmosphere to bring us into the battle: sailer calls, marine gunfire, and the crack of opening sails, but perhaps we'll have to just wait for someone to mod the game a bit after launch. The naval warfare also lacked some strategic depth at first -- at least until we figured out the whole broadside mechanism. Toy a bit with the round cannon buttons in the lower right and you'll soon be on your way to kicking some scurvy butt. Unfortunately you can't roll as the French in the demo.
The demo's land combat scenario is everything a Total War game is and more. The engine really has come a far way since Medieival II Total War, and that's saying something 'cause that game is still gorgeous.
Soon we'll have our hands on the full version and constructing our Austrian empire from the ground up. The game is slated for release next week (March 3rd), and if you can't wait and you're hankering for more Empire Total War coverage then checkout these quick battle walkthroughs from some of the game's AI Programmers:
1:Empire: Total War Superior Tactics Walkthrough
2: Empire: Total War Superior Tactics Walkthrough Part II HD
They're a bit over produced and has too many quick-cuts for its own good, but it has great examples of what makes Total War battles so great: the scale of the fights is unparalleled.
Read More in: Board Games | Gaming Culture | Gaming News | Variants
Share this Article with others:

Related Articles:
Came straight to this page? Visit Critical Gamers for all the latest news.
Posted by Critical Gamers Staff at February 24, 2009 9:03 PM