Battles of Westeros Wargame System Hits Shelves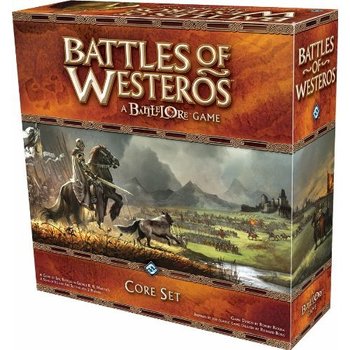 All of you Game of Thrones fans: it's time to get your dork on. Fantasy Flight Games has released the flagship installment of their new Song of Ice And Fire wargame System.
Based on the succesful BattleLore gaming system, Battles of Westeros [Amazon, Funagain] focuses on the battles and campaigns between House Stark and House Lannister from the G.R.R. Martin Book Series

. The set includes armies from both factions, customizable game boards, a book of scenarios depicting battles from the novels, varying unit types, and characters from the series who lead their armies with their own custom strengths.
We've kept a close eye on this title, and we would put it in the moderate complexity for war games. The title incorporates some interesting things like command radius from your leaders, their ability to command various types of units, and faction-based unit statistics and abilities. Combat dice and all that lot seem pretty straight forward.
Being a FFG wargame, it's pretty obvious to say that it's more complicated than Days of Wonder's Memoir '44 and Westeros' sister franchise BattleLore, but less complicated than FFG's own Tide of Iron. That's a pretty nice sweet spot if you think about it.
For more information about the new system, checkout our previous coverage:
And here are Battles of Westeros' official details:
---

"Unfurl the banners of the Great Houses of Westeros! To secure power in the Seven Kingdoms and to ensure the survival of their lines, the Houses of Westeros each follow very different paths. Some forge strategic alliances, some create complex political intrigues, and still others use deceit and betrayal. But there is no more direct or lasting path to power than taking to the field of battle.

In Battles of Westeros, two players recreate the military conflicts set in George R.R. Martin's A Song of Ice and Fire series, taking part in battles directly from the books... or designing their own. In this epic board game of battlefield tactics, players control either House Stark, the wards of Winterfell who have called their hearty allies to defend their honor and lands, or House Lannister, an aggressive force funded by Casterly Rock's endless supply of gold."

---
We'll keep you posted of more details as the wargame system matures. While this first installment is all about Stark V Lannister, future installments should incorporate some of the other major houses of Westeros -- and there sure are lot of them.
Read More in: Board Games | Gaming News
Share this Article with others:

Related Articles:
Came straight to this page? Visit Critical Gamers for all the latest news.
Posted by Critical Gamers Staff at July 13, 2010 5:10 PM