Ascension - A New Deck Building Card Game on the Horizon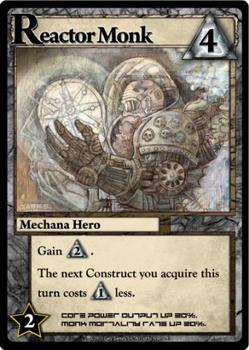 We're quite happy to see a potential triple-A title breaking into the Deck Building Genre, a format of game spearheaded by 2008's Dominion. Ascension is under development by a bunch of ex Magic the Gathering pro players. And by the looks of it, some old school Magic the Gathering artist aficionados, too.
Ascension seems like it's a refined and yet more fleshed-out version of Thunderstone, but where as Thunderstone lacks depth (hopefully resolved in its upcoming expansion), Ascension will ship well structured and complete faction decks with full-bore back stories.
Players will select a themed deck and place face down as a shuffled pool in the middle of the table. The game starts by dealing out a series of cards from the pool. These are placed face up in shared area.
Turns proceed where players either purchase an item (if they can afford it) or attack creatures from this shared pool. One a card is purchased, it goes into the player's discard pile, later to be reshuffled into his deck. At this time another card from the pool be drawn and placed into the shared area play.
The pool seems to differ considerably from the Dominion and Thunderstone system. Where as before every card type was available for purchase at any time, it seems that the Ascension system will keep things interesting by creating a randomly selected subset of cards to choose from. And if you're eyeing something then you better snatch it up quick , because it might not be there by the time your next turn rolls around.
Checkout the Ascenion Official Website for more information about this upcoming title, including and overview of the rules and more information about how each of these themed decks will play. It looks awesome.
We'll keep you posted of more information as its released. Till then, have a good weekend!
Read More in: Card Games | Gaming News
Share this Article with others:

Related Articles:
Came straight to this page? Visit Critical Gamers for all the latest news.
Posted by Critical Gamers Staff at July 9, 2010 5:05 PM