Carcassonne Sale on Tanga.com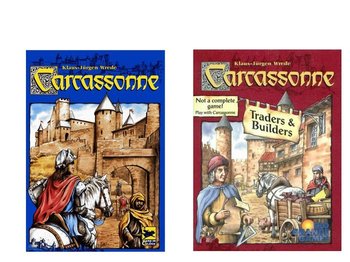 It's been a while since Tanga has had a worthwhile sale! Well today they've hit a softt spot with us, right on the money, with the Carcassonne Board Game Bundle.
Repeat readers know that Carcassonne is one of our favorite titles, ever. It still remains in the forefront of our gaming play list.. especially since Carcassonne for the iPhone hit the Internets a few short weeks ago.
Now Tanga is bundling both the main set and the Traders & Builders Expansion. If you're new to board gaming and you're looking for a great neo-classic pickup for cheap, then look no further. This bundle also makes the perfect gift for families looking to get into board gaming (Ages 8+).
Here are the details:
---

"Carcassonne is a clever tile-laying game. The southern French city of Carcassonne is famous for its unique Roman and Medieval fortifications. The players develop the area around Carcassonne and deploy their followers on the roads, in the cities, in the cloisters, and in the fields. The skill of the players to develop the area will determine who is victorious.

Traders & Builders is the second major expansion to the original game of Carcassonne, containing 24 tiles with new features such as Bridges and Cities.

Some tiles also feature symbols for the goods Wine, Cloth and Wheat. Players collect one of these goods when the feature that has it on the tile is scored. Players with the most of each type of good gets bonus points at the end of the game. There are also two new wooden playing pieces in this expansion. The Builder is like a meeple in that it may be placed in a city or road as a kind of supervisor. A subsequent tile extension of the feature the Builder is in allows the player another tile placement. Farmers will also be able to place a new Pig pawn in a field for extra points at the end of the game.

Finally, Traders & Builders comes with a large cloth bag. Not only does this makes it easier to keep and handle the tiles, but it also removes the problem of having non-identical backsides.

The game is playable with or without the first expansion.

" - Tanga.com

---
Read More in: Board Games | Cheap Deals & Sales | Gaming News
Share this Article with others:

Related Articles:
Came straight to this page? Visit Critical Gamers for all the latest news.
Posted by Critical Gamers Staff at July 7, 2010 10:15 AM