Fictionaire - A 'New' Party Quiz Game Announced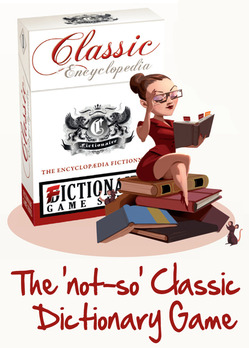 Publisher Days of Wonder describes the upcoming party game Fictionaire (4-7 players) succinctly:
"You may know it as dictionary, fictionary, Balderdash™... or even "Call my Bluff", the classic British TV game show; but it could just as easily be called "the making up lies to fool your friends" game!"

- Days of Wonder
And it makes us wonder a few things. One, if the game has been all these things before, then why do we need another installment? Two: why would Days of Wonder, a maker of such unique, high-quality and well-balanced titles, push what's essentially a re0randing of such a long heritage of incredibly similar games?
We can't quite figure it out. Days of Wonder is quick to note that this title distinguishes itself in a few ways, but they're all related to the production materials and not in the game itself.
For one, each installment will come in a pack of cards the size of a cigarette pack that has been stylized like it's chalk full of ye olde cigarettes. Secondly there will be multiple installments centered around different themes. First up is the 'classic dictionary game', but other installments will be themed Tall Tales, Fool Science with quirky science history, and Naturals which tasks players to crafty zainy definitions of things straight out of the natural world.
But with only 120 cards in each pack, it might not take too long to start iterating over the same questions. And once everyone knows the true definition, or true background of scientific oddities, then it the replay value might not have the staying power.
You can read more information about the title in the official Fictionaire Press Release. Also, Days of Wonder has posted a nice little Preview Website here.
We'll keep you posted about more Fictionaire news as it nears release.
Read More in: Card Games | Gaming News | Party Games
Share this Article with others:

Related Articles:
Came straight to this page? Visit Critical Gamers for all the latest news.
Posted by Critical Gamers Staff at July 6, 2010 4:30 PM