Battles of Napoleon Series Announced by FFG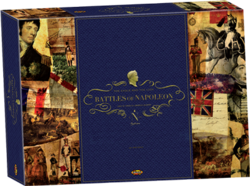 Napoleon has surface in our lives in a big way. Last week we say the release of the strategic and tactical wargame Napoleon Total War for the PC. Now we have word that Fantasy Flight Games plans to release a series of tactical board games based on the Napoleonic Age.
And sweet mamma pajama it looks awesome.
The first edition of Battles of Napoleon series is dubbed The Eagle and the Lion and incorporates 10 historic battles from the Napoleonic Wars with the major players being that of England and France. Fans of the other empires of the time should know that other powers will play some minor roles in the varying scenarios of this release. Hopefully we'll see a stronger showing of Austria, Prussia, and Russia in future expansions, too.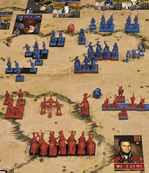 We're not entirely sure what the list of scenarios are at this point, and if the first edition will contain the finale at Waterloo against England and Prussia, or if the series will iteratively work its way through Italy, and on into Russia before tackling that fateful battle. What we do know is the product information page has a battle image that seemingly takes place on sandy terrain, so it seems that the we're heading to Spain or Egypt. There will be 4 game boards in all, each double sided, and with terrain tiles to boot, so we fully expect to be all over Europe, too.
The initial announcement also hints to an interesting command and control scheme where orders will be divvied out to sub commanders who in turn lead divisions of troops. These orders might be confused or misinterpreted based on the battle situation, event cards, and the morale of the troops involved. Adapting to your foes moves, artillery, and calvary checks is only part of the game, the general chaos of the battle is another major player. Very interesting.
For more information on The Battles of Napoleon: The Eagle and the Lion check out the Product Description Page on the FFG website. We'll keep you apprised of more details as they come to light, and rumor has it that they're looking for an Early Summer release. We're stoked!
Read More in: Board Games | Gaming News
Share this Article with others:

Related Articles:
Came straight to this page? Visit Critical Gamers for all the latest news.
Posted by Critical Gamers Staff at March 4, 2010 5:30 PM