A First Look at Battles of Napoleon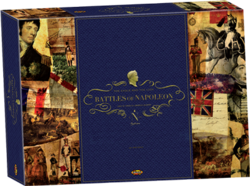 Board Game News has posted a great first-impression preview of the upcoming Battles of Napoleon. The article paints a pretty positive picture of the new historic war games system, and includes commentary on the turn order, rules, board pieces, and overall gameplay.
No Fantasy Flight strategy game is destined for gold medals. Sometimes their rules can be complicated for the sake of instilling a feeling of chaos (War of the Ring's fate dice). Or they layer systems onto other systems to breed deep levels of strategy, but only serves to muddle the gameplay (Warcraft Board Game, original). We've been hoping that Battles of Napoleon goes the Tide of Iron route which just simply nails it in beautifully. More complicated than your average board game wargame, but less mind numbing than your epic war simulation.
We'll keep you posted on when this new wargame system ships later this month. Until then checkout our previous coverage: Battles of Napoleon Series Announced by FFG and The Napoleonic Battles of the The Eagle and the Lion .
Read More in: Board Games | Gaming News
Share this Article with others:

Related Articles:
Came straight to this page? Visit Critical Gamers for all the latest news.
Posted by Critical Gamers Staff at June 21, 2010 4:40 PM