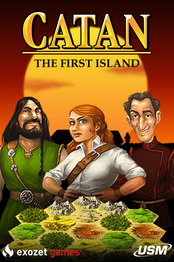 February might be the shortest month of the year but it was jam packed with excellent gaming news. For those Dominion Card Game fans we had news about another game that a similar vein with Thunderstone, and the news of not just one Dominion Expansion: Alchemy, but a hint of at least 2 years of the Dominion franchise expanding and evolving with more and more releases.
Board gamers got news of an epic Warhammer wargame with Horus Heresy, and announcements from Mayfair Games about their spring lineup. This includes another release in the Catan Histories series, which bridges Settlers of Catan mechanics with the American expansion west during the Industrial Revolution. We really liked Struggle for Rome, so we have high hopes for Catan Histories: Settlers of America which is slated for release later this year.
February also presented us the strategic board game and real time tactical battles of Napoleon Total War for the PC. We've been playing this over the last week and it's really an amazing step up for last year's 18th century based Empire Total War. And considering how much we loved that game, it's only testament of how much a beast Napoleon Total War really is. Anyone with a PC, an interest in history, and some mouse skills should definitely pick it up.
Here's to a dry March!

Board Games

Card Games

Collectable Card Games

Gaming Culture

Gaming News
Our Game Reviews

Critical Gamers Staff at
Permalink