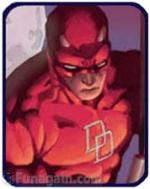 Fantasy Flight Games' boardgame designer Roberto Di Meglio has posted Part 4 of his Marvel Heroes preview article to the Boardgame Geek forums. This time he focuses on the game's quick combat mechanics.
The article goes into details, but here's a summary -- Superhero and Villain characters have one or more super/evil power. Players must chose one of these powers to use in each round of combat. The power has varying ranks of three elements: Attack, Defense and Wits. Attack and defensive values affect the number of dice tossed when they two super hero and villan are slugging it out. A battle of Wits follows up the fisticuffs (if both characters are still standing), with the winner scoring another hit and also gaining initiative for the next round of combat.
It seems simple enough, with the dice randomness (blech) controlled by the gaminess of power selection (cool). The point was to keep combat simple, fun, and quick so other players aren't doing their taxes between rounds. Here's a snippet:
Designing the combat system for our Marvel Heroes boardgame was one of our 'challenges'. This is a multi-player game, and it was not acceptable to have each combat to be too long. Also, too much detail on the combat would have detracted from the need of creating a larger story than a head-to-head bashing.

At the same time, super-heroes are different, with different super-powers, levels of strength, special abilities, and combat is an important element in many comics, so we had to get enough detail and strategy to give the right feeling and fun factor.

In the desingn, we also wanted to avoid a common pitfall of other super-hero games from the past, where the different power level of the abilities of a super-hero made the choice of a certain strategy too obvious. From Marvel Heroes: "A Preview (part 4)" by Roberto Di Meglio
Part 4 of the Marvel Heroes preview can be found here. The game is slated for a Fall 2006 release, and will be published by Fantasy Flight Games.
Also see:

Critical Gamers Staff at
Permalink