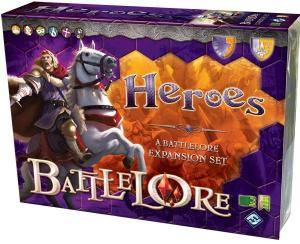 Fans of the BattleLore franchise have been sitting in longer duration hold pattern for some new toys to play with for a while. There was a drought for Battlelore even before the change of hands from publisher Days of Wonder to Fantasy Flight Games last year, and there hasn't been a significant release for the franchise since then either. But now BattleLore Heroes [Amazon, Funagain] is here, and while the $40 MSRP might not be reflected in the raw materials you get (that is: there aren't that many), you can be sure that the expansion is a great first step to refresh the wargaming system
Just a quick recap on the state of things: The BattleLore wargame system is set during the Hundred Years War. Despite the gruesome historic context the game plays relatively light and is shares rules with the approachable Memoir '44 (WWII) and Commands and Colors (Ancient) dice war game systems. The idea was to create an accessible medieval war franchise, and then introduce packs of new units to further the 100 Year War time line and to - with an intriguing twist - dabble in some Fantasy characters, too. Giant spiders, some trolls and goblins, and a few dwarfs entered the mix, but honestly, not much more than that.
But now with BattleLore Heroes players can create persistent characters that not only wander the battlefield, leading their troops on or laying waste to enemy forces, but earn experience throughout multiple fights. More experience and treasure snowballs into new abilities and powers, and so players can further customize their units throughout their campaign.
Very interesting stuff that adds an epic narrative to a series of otherwise independent scenarios.
Here are the full details:
---

"This BattleLore expansion introduces player-created Leaders and Champions to augment your camp's forces in battles.

As with all journeys, the beginning is never easy. As a fledgling adventurer, you begin with a bare minimum of skills and artifacts to help you combat the enemy. Adventures have the potential to reward your intrepid Hero greatly if he performs well. But beware, battlefields are not without peril, and taking too many wounds may force your Hero into an unwanted early retirement.

Prepare yourself for the journey of a lifetime!

BattleLore: Heroes includes 10 unique Hero figures, a Rules booklet, 110 Skill, Artifact, and Landmark cards, and much more!"

---
For more information about BattleLore Heroes or the BattleLore Wargame system, checkout the games' official website.

Critical Gamers Staff at
Permalink