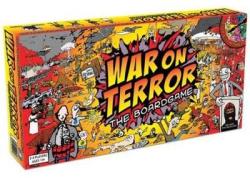 Here's one from TerrorBull Games for all you tongue-in-cheek cynics out there (nothing to be ashamed about -- we're with you).
War on Terror
[
Amazon
,
Funagain
] is a strategy board game that fits together many games we love, and themes it with modern day troubles.
The game nicely combines elements of Risk, with a simplified resource production similar to Settlers of Catan, and stuffs a bit of Diplomacy into it as well. Dark? Yes. Well executed? Definitely, though sometimes theres such a strong balance between two sides that games may last for longer than their expected two hour duration. One thing we really like though: there is a Hidden Message pad that players may use to communicate/conspire with each other, but watch out! Some cards allow players to read the secret messages allowed. Oh boy howdy, that's good stuff -- it reminds us of the communication vouchers from so many days playing the diplomatic game in A Line in the Sand.

Continue reading:
"War on Terror Board Game"
Critical Gamers Staff at
Permalink