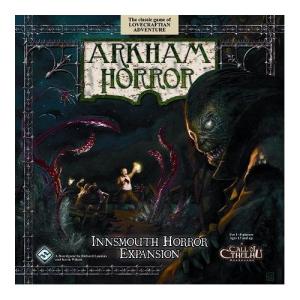 The H.P. Lovecraft themed horror board game series Arkahm Horror has just expanded, again, and it's another doozey. Arkham Horror: Innsmouth Horror Expansion [Amazon, Funagain] adds the sleepy coastal town of Innsmouth to your monster slaying adventures, including a new board extension, new monsters and 16 new cast members to a game that already has a surprising amount of depth.
The game can be used in conjunction with the other expansions, or can be mixed and matched with a subset of them as you see fit. Please note that you really don't have to play with all the expansions at once.. cause that's some serious time and table space. But sliding Innmouth in place of one the other jobbers, or using it to expand upon the original game, makes for some great gaming.
And of course Innsmouth isn't just a new board with purty pictures; it includes new gameplay elements on content up the wazzo. Most notable are the new character story cards (see preview article "Story Time") that include game mechanic hooks, not only for the new characters of Innsmouth, but for the main game and for characters from all past expansions to boot. Hows that for being thorough?
If you're thirsty for more speicifc details, Fantasy Flight Games have posted a series of preview articles regarding the new mechanics of the game, and a preview of some of the tentacly baddies that wait for you within:

And of course, how could we forget the game's official details:
---

Innsmouth Horror introduces several new game concepts to the Arkham Horror board game, including Personal Stories unique to each investigator as well as the Innsmouth Look. The town of Innsmouth is hostile to the investigators, and they may well find themselves thrown in jail and fed to a Shoggoth while they search the town for evidence to call in the Feds. However, leaving Innsmouth to fester is a bad idea, since the Deep Ones will gather and rise, bringing with them the Ancient One.

Innsmouth Horror also adds 16 new investigators, eight new Ancient Ones, two new Heralds, Epic Battle cards for the new Ancient Ones, over 30 new monster markers, plenty of new encounters, and an expansion board featuring the town of Innsmouth. Over all, this expansion adds over 300 new cards to the base game.

---
Arkham Horror: Innsmouth Horror Expansion is now shipping from Amazon and Funagain Games.
Critical Gamers Staff at
Permalink