The sweet smell of rotting leaves is in the air, both 'Thriller' and (regrettably) 'Monster Mash' are making their annual run up the charts, and costume shops are sweeping druggies out of empty store lots normally vacant ten months out of twelve. Yes, Halloween is coming, and we thought it was high time to go through a list of our favorite monster smashing games.
Most of these titles have seen a few fall seasons but they still stand strong against the test of time. We've also noted if a game has any noteworthy expansions - so even if you own the original there might be something new lurking in the darkness that spices it up.
And without further ado:
Arkham Horror [Amazon, Funagain]
The town of Arkham, Massachusetts is in a panic. Horrific and bizarre events have begun to occur with increasing frequency -- all seeming to point towards some cataclysmic event in the near future that may spell disaster for everyone. Only one small band of investigators can save Arkham from the Great Old Ones and destruction!

Arkham Horror was originally published by Chaosium, Inc. almost two decades ago. This new, updated edition features stunning new artwork and graphical design as well as revised and expanded rules! No fan of the Cthulhu Mythos will want to miss this opportunity to acquire this classic Call of Cthulhu boardgame!
We should note that Arkham Horror is currently on schedule for a reprint, which should hit store shelves before Halloween. So if this title is currently out of stock, then check back at your store daily!
Expansions: "Arkham Horror: Curse of the Dark Pharaoh (2006)"[Amazon,Funagain]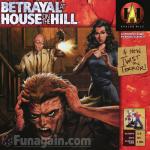 Betrayal at House on the Hill [Amazon,Funagain]
Build a House of Terror. Tile by Tile.

It's never the same game twice. As one of twelve mysterious characters, you'll explore a house filled with deadly secrets. As you play, you'll build the house. But beware! One of your fellow players will betray you. The traitor will test your sanity as you use all your skills to survive.

With fifty fiendish scenarios, Betrayal at House on the Hill puts you face-to-face with legendary monsters, modern nightmares ... and your friends.
There have been some considerable changes that the publisher has made to patch this title, so make sure you check out the Official FAQ and Updated Rules Errata to make the game a smoother and more enjoyable experience.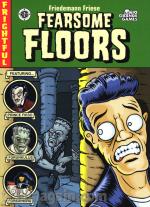 Fearsom Floors [Amazon,Funagain]
It was fabulous! Fearlessly, you found the 3 fetishes in the Finnish fjord. With light-footed and foxy feints you ferry the fetishes to prince Fieso in France to free the fascinating faerie Fabula. But Fieso is not fond of foreigners, what a fiasco! You land freezing and foolishly find yourself trapped in a frightful fortress with sinister corridors. Now you must flee Fiesos trap. Furunkulus, the monster, is a frightening freak, especially fond of foolish foreigners. He will feed on you if he is able. So you want to fool Furunkulus and flee to freedom.

Fearsome Floors is a race game in which the players must move through a dungeon as fast as possible - or at least within 14 turns - before it crumbles over their heads. This could be done in 7 turns if everything was peaceful and quiet, but unfortunately is the dungeon also the home of a very hungry monster! Players must maneuver their disks through the dungeon trying to manipulate the movement of a monster who is always after fresh prey. Players can try and lead the monster to their opponents' pieces, but may find themselves eaten instead! Pieces might slide along blood slicks, or be crushed between a boulder and a wall. You can even try to get the monster to teleport to another part of the board, where he will fall upon his next victim. This family strategy board game is for 2-7 players and takes about an hour to play, and it can be learned in 10-20 minutes.
For some time, the village of Millers Hollow has been afflicted by werewolves who attack each night. The village inhabitants must find out who among them are werewolves before they all fall victim to the evil creatures...

Werewolf or villager?
You draw a card which determines your secret identity. You play out your role under the direction of the game leader.

You are a werewolf.
Your goal: To eat a villager each night. During the day you are an honorable citizen.

You are a villager.
Your goal: To discover the werewolves and to convince the other players to take them out (and make sure you don't get mistaken for a werewolf). No easy task. But fortunately there are a few villagers with special abilities: The old seer, the hunter, the witch... They will be helpful in defeating the werewolves
This is a great party game classic for 8+ players. In fact the more people, the better. Simple rules, and no board nor confusing pieces, so just about anyone get pick it up and start playing - even the usual non gamer!
Critical Gamers Staff at
Permalink