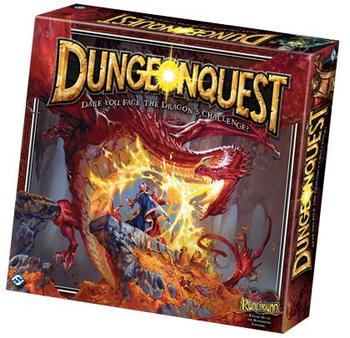 FFG has announced another title remake that'll fold into their line of fantasy adventure board games. DQ finds its origin in the original "Dragon Fortress". Created in Sweden way back in 1985, the game was later brought over to the table tops of English speaking gamers by Games Workshop just a years later.
In both editions Dungeon Quest merged the adventure and exploration aspects of fantasy RPGs experiences with the structured rules and goals of Board Gaming.
Now under Fantasy Flight Games' wing, Dungeonquest is getting a face-lift and will be tied into the publisher's franchise fantasy setting of Terrinoth (Descent: Journeys in the Dark and Runebound). The upcoming release will continue to sport the traditional gameplay elements of the original, but they will be thoroughly overhauled.
The game pits 1-4 players against the dungeon that's run entirely by set of rules and random elements, so there will be no single player antagonist. Instead each player will make their way through this random dungeon. The player who obtains the most riches and makes it out of the dungeon alive (before the dungeon's doors close at sunrise) will be named the victor.
Not much more about the remake is known at this point. What we do know is that the original had some pretty interesting mechanics. Most importantly the dungeon was drawn at random, with tiles flipped over each turn and placed by players. We really hope this dynamic dungeon building system survives the mechanics overhaul because it was - well - awesome.
There are two webpages where you can read for more information. First is the announcement article "A Brutal Test of Courage". The other is the Official Dungeonquest product details. Here's a snippet:
---

"In DungeonQuest, players must guide their heroes through the twisting halls of Dragonfire Dungeon in pursuit of unimaginable riches hoarded by the Dragonlord Kalladra. Whoever can amass the most wealth and make it out of the dungeon before the closing of the doors seals their doom will emerge victorious. However, merely surviving the harrowing dungeon is a feat all its own...

While many similar games rely on a player to control the machinations of the dungeon, Dungeonquest is unique in that the dungeon essentially runs itself. No one at the table knows what lies around the corner, creating a new play experience every time. Additionally, DungeonQuest also includes rules for solo play, so you can even challenge Kalladra's keep on your own!

Great riches and everlasting glory await if you can survive Dragonfire Dungeon. The Dragonlord Kalladra has challenged all heroes of Terrinoth to test themselves against the most dangerous dungeon in all the realms.

Dare you face the dragon's challenge?

"

---
We'll keep you posted of more details as they emerge. No release date has been announced, so we'll be sure to watch out for that, too. Have a good weekend!

Critical Gamers Staff at
Permalink