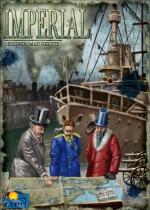 It might be a touchy subject given the world political climate these days, but it's still true: War makes people rich. And the new title Imperial [Amazon, Funagain] from Rio Grande Games makes a stunning game out of that one simple principal.
Thankfully all modern politics and ethics can be set aside for this one - Imperial depicts the European political theater a hundred years ago in the early 1900s, just as national tensions began to climb and pressure mounts for the outbreak of World War I. Players of the classic social backstabbing board game Diplomacy will be quite familiar with this period in history, but instead of acting as the diplomatic leaders of wartime nations, players act as rich wartime investors - buying and selling stock in countries throughout the war. Whoever controls the most stock of a particular country becomes the commander of both its military forces and its spending policies - at least until he's unseated.
The game has certain triggers which generate tax revenue for each particular country, and then other triggers which distributes that revenue to each player that's invested in it. So even if a player isn't in control of a country dominating the theater of war, they can still ride its coattails to successville.
Now although this game has war gaming elements, and a wartime theme, Imperial remains a business investment game at its heart. Combat is relatively simplistic - a simple formula of the mutual destruction of units. In a 3v2 situation, for instance, only one army remains alive. In our opinion this is a good thing, as it keeps the game rolling along smoothly.
Imperial also makes use of the ingenious rondel turn mechanic inherited from last year's popular release Antike [Funagain]. Residing on the board is a pie chart circle divided into eight equal slices, each section depicting one of the game's eight possible turn actions. At the start of a country's turn its marker sits on one of the sections, and the player can chose from any of the three options on the series of slices following the marker. For instance, a turn a player could either "move armies", "produce armies", or "collect tax revenues". The player can chose to take any of these actions for free, or he could spend money to jump beyond the free actions at a cost of one million dollars per space beyond the three. In this way individual countries move through production and movement phases at their own rate, and can string together a series of out-of-order actions by speeding through the rondel, but for a price.
We're babbling. We can feel it. It's only becuase we're really excited about this release. This one is right up our alley. Here's the official description: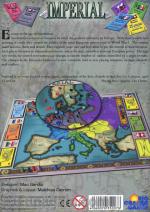 The Company Line: Europe in the age of imperialism. Internationally operating investors aim for the highest political influence in Europe. By giving credits they gain influence over the six imperial nations Great Britain, Germany, Russia, Austria-Hungary, Italy and France. These nations desperately need money to build up their economy and to buy troops and fleets. With their growing power in Europe, they collect more taxes and pay their rising interests to their investors. Because the six imperial nations are under changing influence of different investors, strategic alliances and conflicts arise between them. Sometimes this even leads to war!

The players represent internationally operating investors who stay in the background. The turns in the game are executed by the six imperial nations, not by the investors themselves, who only impose their financial influence on various nations. Only the investor who gets the best return on his investments, who gains influence over the most powerful imperial nations, and who can influence the European diplomacy to his benefit, will win the game.

Imperial is a challenging strategy game without any luck of cards or dice.

Contents:

1 gameboard
48 armies in 6 colors
48 fleets in 6 colors
60 tax chips in 6 colors
30 factories
18 octagonal game pieces in 6 colors
1 turn marker
48 bond cards
6 flags
1 investor card
1 blank card (replacement)
bank notes
1 instruction booklet
1 booklet: Historical Data on the Six Power
Imperial is now shipping from Funagain Games.
Critical Gamers Staff at
Permalink