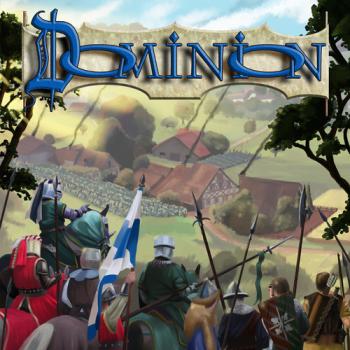 The preeminent board game award committee the Spiel des Jahres - or German Game of the Year - has chosen Dominion [Amazon, Funagain] as the best game of the 2008. Having obsessed over it ourselves over the last few months, we concur. Dominion is the freshest set of gaming fun to come in a box since the NES shipped back in 1985.
OK, perhaps that's an overstatement. But man, Dominion has grabbed us by the hair and bonked our heads around the room. It's just flat out surprising many options there are in any given game, how each game seems very different and very interesting from the last (randomly drawn configurations of the games pieces), and the speed at which the game unfolds, all make it one of these best games we've gotten our hands on since we started playing Eurogames and board games oh-so-many years ago. Plus, it's approachable as all heck, and that's nothing to shrug off, either.
The only drawback is that the game was designed for only 4 players. That's just not enough for our standard group. Thankfully, the first Dominion expansion is slated to ship in about a week, and that ratchets up the number of participants to a more comfortable 6 players ( and perhaps even more with alternative rules ).
Dominion has also won a few other awards of note, including like The Dice Tower Game of the Year nomination, and a Mensa Select winner for 2009.
We highly recommend that you check out Dominion if you haven't already. More information can be found in our previous coverage Dominion - A Standalone Collectible Card Game in a Box. Also, here's some flavorable official details pulled from Dominion's game page at Funagain Games:
---

You are a monarch, like your parents before you, a ruler of a small pleasant kingdom of rivers and evergreens. Unlike your parents, however, you have hopes and dreams! You want a bigger and more pleasant kingdom, with more rivers and a wider variety of trees. You want a Dominion! In all directions lie fiefs, freeholds, and feodums. All are small bits of land, controlled by petty lords and verging on anarchy. You will bring civilization to these people, uniting them under your banner. But wait! It must be something in the air; several other monarchs have had the exact same idea. You must race to get as much of the unclaimed land as possible, fending them off along the way. To do this you will hire minions, construct buildings, spruce up your castle, and fill the coffers of your treasury. Your parents wouldn't be proud, but your grandparents, would be delighted. Dominion is not a CCG, but the play of the game is similar to the construction and play of a CCG deck. The game comes complete with roughly 500 cards. You select 10 of the 20+ Kingdom card types to include in any given play -- leading to immense variety.

---
Critical Gamers Staff at
Permalink