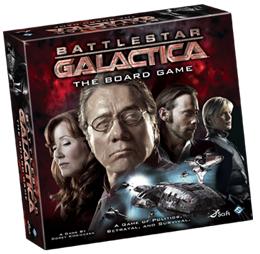 Tonight is the end of the best show ever aired on the Sci Fi Channel (considering the flotsam that constitutes the rest of that station's lineup, that may actually not quite do the show justice.) We celebrated this week with another go around with the Battlestar Galactica Board Game [Amazon, Funagain], and man, that game only gets better with repeat plays.
We had a pretty interesting experience this time around: one of the skinjob cylons remained hidden amongst the four remaining humans until just the very end. He kept the humans guessing, paranoid and caused infighting through the entire game. He even did a few things to help out the fleet as to obscure his true identity and motives, including once springing one of the humans from the dreaded Brig.
But it all backfired. The humans ended up winning the game. A series of crisis cards and some risky premature jumps kept the turn count low and sprinted the fleet to victory. Sure, it was a close nail-biter, with the population reading a dismal 2 by the end of the show.. err.. game session, but for the first time in our group the Humans prevailed.
So it got us wondering: when exactly is a good time for the hidden cylon player to reveal himself. Does infighting and paranoia keep the humans in a quagmire, or is it advantageous to reveal and go for a dual cylon attack?
After some rambling half-drunken discussion at our favorite bar we came up with the conclusion: it depends. It depends on the level of paranoi, the state of the game, including the number of cylon ships, etc. Or if there are enough other players in the brig that you can keep them there and create havock on the Battlestar with wreckless abandon, like say by purposefully jumping the Battlestar early to kill off some population, or to use the communications room to move civilian ships toward the encroaching cylon raiders instead of away from them.
After all, it might be ok to 'reveal' yourself as a cylon via such treachorous acts even if you don't use the Reveal action to do so. It'll take an entire human turn to stick you in the brig, and perhaps you can cause some applied mayheym in ways that you reveal ability could only dream of.
So we did some poking around the Battlestar Forums to see what other thoughts, and we found this great thread: Battlestar Galactica: To reveal or not reveal?.
It's chalk full of great scenarios where the best thing to do is perhaps not the most intuitive decision.
Enjoy the read, and enjoy the series finale. We'll see you on the other side.

For more information about the Battlestar Galactica board game, checkout out our other stories:

Critical Gamers Staff at
Permalink