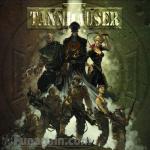 Finally, the English translation of the French tactical wargame Tannhäuser [Amazon, Funagain] has been released by Fantasy Flight Games, and we're pretty darn excited.
The game takes place in an alternate history of W.W.I. in 1949. Yes World War I is still raging strong even after decades of costly and bloody battles, and deep inside Central Europe the forces of the Reich stumble upon an ancient Relic. As it churns out this glowing shard-thing is the key to opening the door to Hell and all the evil powers within. Bummer. Why isn't there ever a key to Heaven?
Tannhauser sounds right up our alley. Let's see: the game takes place during the 1940's as the Germans and Allies fight over war torn Europe: Check. The game has heroes with special skills like demolitions and heavy weapons, all of which you can customize: Check & Check. It scales from 2 to 10 players for all sorts of game night turn-outs: Check. Oh, and there's a gate to hell, and experimental weapons tied to the alternate reality history of World War One and the demony unknown: yeah, that's a big old check and a half.
But this isn't the end-all game of the century; there have been some critiques of the game floating around prior to release. Though the game offers some depth in character design, the combat gameplay itself is pretty light and simplified for a tactical war game. Also, some people feel as though the components are bit too dark to read, and that the game is weighted in the German Sides' favor. In all though, the game seems to be "fun" given these considerations and quirks.
Check it out for yourself. Here are some links to fill you in on all things Tannhauser for the game's launch:

So judge for yourself, and we'll attempt to get a review copy of the game so we can offer our own opinions as well. We'll also keep you posted about the other upcoming Tannhauser products including a new Russian setting and some new expansion characters scheduled for release in December.

Critical Gamers Staff at
Permalink