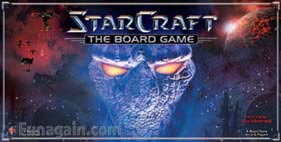 A heads up today on the progress of Starcraft: The Board Game [Amazon, Funagain] prerelease media news. Early last week Fantasy Flight Games started posting feature preview articles about the various factions that inhabit the game: the Terrans, Zerg and Protoss, and an article about the design philosophies of the upcoming Big Box adaptation of the massively popular RTS computer game.
The individual faction articles detail each of the units which have made the leap from the PC Game but not much else on their play style and role in the overarching story. Those familiar with Starcraft will find an instruction-booklet like description of the vehicles and troops they've grown to love, but little else in terms of the gameplay details.
One thing that seems glaringly missing from the catalog of units are the gremlingesque zerglings, which are the rushing grunt troop for the Zerg race (duh). Oh you cute mass-attack fodder units, wherefore art though sweet brooding creep?
The Designing the Game preview article goes into some of the considerations made while the producers crafted-up the game's art assets, and while designing the main theme of skirmish combat over the large battle combat we're used to seeing in the Starcraft RTS.
" While we wanted to capture the theme of the video game, we also wanted to create a unique StarCraft experience that could not be found anywhere else. At the same time, it was important for it to feel like StarCraft. While walking this razor's edge, we brainstormed and formed the core ideas of what the game would be all about."
There's some great info on what seems to be a pretty cool card component to unit combat. Some unit types have a hand of cards to act as a persistent level of integrity, instead of keeping track of the state of damage. For example: a Protoss carrier is rather beefy, and has a lot of protective cards in its deck, but playing those cards from the hand bleeds away the carrier's ability to take hits, and makes it more susceptible to destruction by even the weaker opposing units as time progresses.
Finally, the Starcraft board game is now available to preorder from Fantasy Flight Games directly [details]. If you preorder the game through Fantasy Flight then you will also receive three art prints from the upcoming Starcraft 2 RTS game for the PC. Those looking for a cheaper alternative can forgo the art prints and preorder Starcraft: The Board Game from Funagain Games, which currently has it at 16 bucks off the MSRP.
Starcraft: The Board Game is slated to ship later this month, in October 2007.
Other Starcraft The Board Game stories of interest:
The Starcraft The Board Rules [pdf]
Critical Gamers Staff at
Permalink