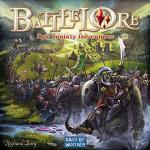 Days of Wonder, publisher of a boat load of great games such as Ticket to Ride, Shadows Over Camelot, and most importantly the highly successful Memoir '44 WWII tactical boardgame series, has announced a new tactical wargame for this fall. BattleLore is based on the historic military combat from the age of the Hundred Years War, but then skews down a path of alternate history which includes a bit of the fantastic. The game starts with a touch of fantasy elements (dwarven units) and then becomes heavily themed in a fantasy setting through a series of boxed and supplemental expansions. There are at least two expansions already slated for release, so the announcement of Battlelore is more like the unveiling of a new franchise than just a new board game title.
According to the designers, BattleLore was inspired by such greats as Warhammer, Chainmail and one of our favorite computer strategy game - Master of Magic (they really don't make games like that anymore). Funnily enough, Days of Wonder discovered an early version of BattleLore at a trade show, but then sat on it because they didn't have the experience to publish games of such complexity. But now that Memoir '44 is going strong, and now that they have semi complex games like Shadows of Camelot under their belt, they've finally been given the nod to put the finishing touches on BattleLore and get that puppy shipping.
Here's the word from the official Days of Wonder press release:
The Company Line: The world of BattleLore meshes history and fantasy together - putting players in command of a vast array of miniature troops on the battlefields of a Medieval Europe Uchronia at the outset of the Hundred Years War.

Drawing on the strengths of its own best-selling and critically acclaimed Memoir '44™, Days of Wonder's newest game takes the time-tested, card-driven mechanics to a whole new level and offers gamers and role-players a unique twist on epic fantasy. Game play takes place on a large-scale hex board filled with armies, legendary races and monstrous creatures that fight over varied terrain and landmarks to capture the enemy's banners in a series of unique Adventures.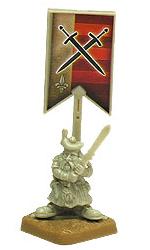 Powerful Lore Masters, such as Wizards, Clerics, Warriors and Rogues gathered in customizable War Councils; Mercenary bands chosen from among mythical races such as the Iron Dwarves of Northern England; and Monstrous Creatures all complement the dizzying array of possibilities and tough choices that will face players as they venture in the World of BattleLore.

Building on years of experience producing the industry's most appealing board games, Days of Wonder raises the bar several notches higher with this new release. BattleLore's over two hundred miniatures use a new patent-pending, Banner Bearer™ mechanic to provide both a visually stunning new look to a players' armies and to display all the unit-specific information that was traditionally compiled in unwieldy army booklets, reference sheets, or hard-to-read wheelbases.

"Not just another game, or the latest game system fad, BattleLore is a foundation game for us - something we first envisioned long before we even started the company and that hearkens back to the days we first discovered Chainmail™", said Days of Wonder CEO, Eric Hautemont. "As a project, BattleLore has been years in the making, yet what we are delivering this fall only lays the groundwork for the future. The coming years will hold many surprises for both resellers and game enthusiasts worldwide."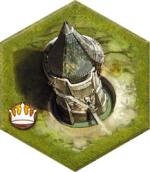 BattleLore includes: over 210 highly detailed plastic miniatures, including 58 banner bearers; an extensive Player's Guide, with separate Adventures Booklet; a double-sided battlemap; 46 Terrain and Landmark tiles; 60 Command cards; 60 Lore cards; 48 Summary cards; 2 War Council sheets; 24 Lore Master Tokens; 12 Battle dice; and a Days of Wonder Online Access Number, giving players free access to the BattleLore Online Adventures Editor. BattleLore is for 2 players (or 2 teams), ages 10 and up and takes approximately 60 minutes to play.-From Official Battlelore Press Release

If the game follows the same format as Memoir '44 , then expect boxed terrain packs at least once a year. This could be something huge, potentially bringing in the fans of Memoir '44 and the fans of fantasy war gaming under the same umbrella. That's a large audience.
As a preview of BattleLore, Days of Wonder has opened a blog where designers will post news and previews.
Battlelore is set to ship in late November. We'll keep you posted of any cool preview developments as we get closer to release.
Critical Gamers Staff at
Permalink