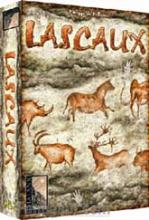 Lascaux [Funagain] is about a 30 minute contest that pits 2-5 players against one another as they bid on cave drawings of the ancient caves of Lascaux in southwestern France. Players earn points by building collections of cards that depict particular animal paintings as they were rendered by what are commonly dubbed humankind's first artists 10,000 year ago. Aside from the visuals on the cards, the game's theme doesn't go much deeper into the lives of the Lascaux cave dwellers.
The core of the gameplay comes from bidding smartly in each round and reading your opponent's motives. The game requires you to create your collection of cards, but starve you opponent of the ones they require. Now we've heard mixed-things about the game due to its thin façade of a theme, but in this dry-season Lascaux might hit just the right spot for a somewhat light family-friendly game.
The official details:

"In 1940 four teenagers discovered a complex of caves in southwest France, at Lascaux. The caves are famous for their paintings, consisting mainly of realistic images of large animals which are known from fossil evidence to have lived in the area at the time. They date back to the Upper Paleolithic era, somewhere between 13,000 and 15,000 B.C.

In Lascaux, the game, the players place a certain amount of cards in the center of the table at the start of each game turn. Each card depicts an animal and two colors. The players secretly choose one color and then place stones into the ceremony bowl. As more and more players drop out, some will win the animal cards at the end of each game round. At the end of the game each player receives points for animal "types" in which he has a majority. The winner is the player with most points.

"
Critical Gamers Staff at
Permalink