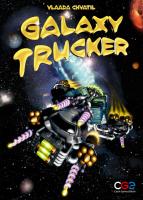 Christmas comes a little early for those lucky few who actually got their hands on the first run of Galaxy Trucker [Funagain]. According to this story on BoardGameNews.com, publisher Czech Games will release a free downloadable expansion on their website on Christmas Eve! Here are the details:
"This expansion is designed for experienced Truckers. If you routinely build ships that overcome every obstacle and arrive nearly unscathed, if you shed a nostalgic tear recalling your first flights when your ships were smashed to pieces and you arrived with only a few sad fragments, then this expansion is for you. This expansion puts the kick back into space travel, and it kicks so hard that the tears will be in your eyes once again." - Board Game News
For more information on Galaxy Trucker check our release story Galaxy Trucker - Hauling A' Your Way October 2007, and stay tuned to the Czech Games website.
Happy Holidays Everybody! See you on the other side.

Critical Gamers Staff at
Permalink