Even the bloodthirsty Romans yearned for peaceful times. It wasn't all about conquest - sometimes Rome itself was the prize.
The award winning and amazing Commands and Colors Ancients line of wargames just got a whole lot larger today with two new expansions. Each brings new battles to the Roman Empire, and like the Commands and Colors Ancients base set, are aimed for two players to slug it out in about an hour mano e mano.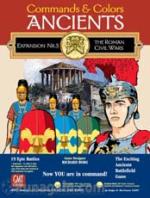 The C&C; system forms the backbone of other wargame hits such as the fantasy wargame BattleLore and the WWII hit Memoir '44, both top of the line systems which seem to be more popular on the commercial front. Critically speaking though, the Command & Colors mechanics breathes life into the Roman era just as much, if not more, in the Ancients series.
Now Ancients is a block game - meaning the formations of units are represented by colored blocks with stickers on them which you push around to form battle lines instead of figurines. This may sound second-class but in reality it goes far to immerse historically-minded players into the ancient battles of Rome. Walls of troops and flanking maneuvers are far more visually obvious, and also physically gratifying as troops move around in formations across the map. The whole thing feels as though you're observing and planning the battle from an overlooking hilltop.
Commands & Colors Ancients: Rome vs The Barbarians [Funagain] kicks things off with 20 new scenarios focusing on Rome and the early Gallic invasion, the Servile War slave uprisings (I'm Spartacus!), and Caesar's conquest of Gaul.
Commands & Colors Ancients: The Roman Civil Wars [Funagain] is the next expansion and includes the bloody Roman on Roman action steming from power shifts within the Republic. Here's a snippet from the official game details:
"The Roman Civil Wars features familiar units with new capabilities. The Roman legions have evolved into the deadly fighting units of legend. In terms of Commands and Colors performance, the medium infantry units (representing less experienced legions) and heavy infantry units (representing the veteran legions) will now be able to move two hexes without engaging in close combat, or still move one hex and have close combat (as well as throwing their pilum -- a capability acquired in Expansion #2: Rome and the Barbarians). You will be able to fight battles with medium and heavy infantry as you have never fought them before!"
Critical Gamers Staff at
Permalink