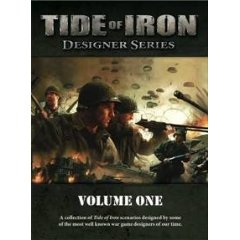 We're pretty big fans of the WWII tactical board game Tide of Iron. In fact the only glaring flaw is that we don't have enough time to devote to the well-designed scenarios that ship with the game and its expansions (sessions take about 3-5 hours).
If you're gang busters about your war games, then you know this series is alive and kicking with some great expansions, like Days of the Fox and the new Normandy Expansion both of which added new units, pieces and rules to the mix. The fact that Fantasy Flight continues to deliver with well produced materials speaks volumes to the longevity of the system. Now Fantasy Flight has also shown the series some more love with a new hardcover supplement of well-designed and balanced scenarios.
The Tide of Iron Designer Series [Amazon, Funagain] is cheaper than your normal expansion, and has scenarios for the base game, Days of the Fox, and Normandy.
Astute gamers may note that the Designer Series came out sometime around the new year. We didn't speak of it because there were gobs of incredible titles coming out at the time . But now, after the dust from the holiday shelling has settled, it's time to emerge from our bunker for some more Tide of Iron goodness.
Here are the official details:
---

Compiled by distinguished conflict historian Dana Lombardy (Streets of Stralingrad), the Tide of Iron: Designer Series is a hard cover collection of twenty scenarios crafted by today's most famous wargame designers. Using the mechanics of the Tide of Iron base game, these design masters have crafted the first volume in one of the most exciting collections of wargaming history. The Tide of Iron: Designer Series is an incredible addition to the Tide of Iron base game, offering a whole new level of depth and historical context for players to enjoy. - Scenarios vary from short, fast-play skirmishes to massive tactical battles. - Historical backgrounds and anecdotes for each scenario written by the scenario designer. - Several scenarios incorporate the North Africa Days of the Fox Expansion. - One epic scenario which requires two copies of Tide of Iron for a massive, multiplayer experience.

---
Critical Gamers Staff at
Permalink