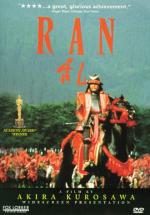 All you film buffs out there just perked up your ears, didn't you? Ever since our group experimented in college, with niche movies that is, we've noted that Ran was a classic. It had it all for a feudal war film: large of armies of spearmen, swordsmen, and early gunpowder units all sporting colorful distinguishing flags (probably made with toxic Red Dye #5), and also those Daimyo in slick armor shouting, gesturing with swords, and leading armies in into battles of massive sieges of Japanese fortresses - it was enough to blow the mind of we few curious college students just introducing themselves to the history of Feudal Japan.
To those of you who have no idea what we're talking about: check out this clip from the movie that we've entitled "Good Morning!". As soon as it sparks your curiosity then do yourself a favor and don't ruin the rest of the movie by watching the whole clip. Instead - shut it off and briskly walk - for the sake of a horrible pun - and rent Ran from you local video store. If the store has any class, then they'll have it in stock somewhere in the back. If their copy is in VHS then uh, rent it from somewhere else that has the DVD version. While audiophiles could claim that analog vinyl records have a "warmer sound" than CD pressings, only the legally blind videophiles argue the same of the visual qualities of old VHS tapes.
And when the lights close on the final scene and you find yourself craving more, then checkout this new war game release of Ran [Funagain] from GMT games to see if it fits your fancy. We have to be honest here, we don't know much about the game other than the product literature from the official website. We don't have a copy of the game in-house yet, nor have we played any of the other games from GMT's historic war game series, so we can only arm you with enough knowledge to to make your own call on whether or not this Feudal Japan game release of hexes and chits is worth your gaming time. But hey, at least your saw a Kurosawa Classic in the process.

Continue reading:
"Ran: The Board Game"
Critical Gamers Staff at
Permalink