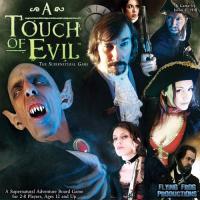 The team behind The Last Night on Earth - a fantastic zombie hunting board game that was one of our favorite releases last year - has announced another monster braining title for Fall 2008. A Touch of Evil looks to put zombies to rest and open the door to a variety of evil monsters types. Gameplay centers around a cast B-Movie stereotypical monster hunting heroes slaying a variety of different monster types. We picture Van Helsing, but good.
Players can play in two modes : cooperative against a difficult uber monster boss, or a players can compete in a race to be the first to slay a more benign beastie.
Reading over the official details makes us reminisce about the amazing Buffy the Vampire board game, which had such fantastically balanced cooperative gameplay. In that title from decades past, players took on the roles of the show's heroes to battle one of the arch villains from various seasons of the show. Settlers of Catan made our game group officially organized, but it was Buffy that drew us back into board gaming in the first place.
Though we truly love Flying Frogs Productions' previous title Last Night on Earth and what it did for the zombie board game genre, the zombie romp has some balancing issues that make some of the few included scenarios more a chore than fun braining experience. That's ok, though, because there really are only a handful of Zombie board games out there, and Last Night On Earth stands heads and shoulders above the rest even with these flaws. But with there being such a strong presence of good, well balanced, cooperative games in the general monster hunt Halloween gaming collection, including Buffy, Arkham Horror, etc. we hope Flying Flog puts A Touch of Evil through a well-designed gauntlet of playability and balancing tests. We might not be as forgiving given since the established library of high quality monster hunting games has set the bar pretty high.
Enough prerelease critiquing. Here are the official details:
"A Touch of Evil, The Supernatural Game is a fast-paced game of fiendish creatures, dashing Heroes, and high-adventure. Each player takes on the role of a unique monster-hunting Hero, racing against time to stop the forces of darkness from claiming another foothold in the world of man. Only by investigating the town and building your Hero's strength can you hope to hunt down the Supernatural Villain to his Lair and defeat him in an epic Showdown. Players can race Competitively to be the first to defeat the Villain and save the town, or they can work together Cooperatively to defeat a much stronger Villain. Featuring a gameboard map of Shadowbrook and its surrounding countryside, eight Heroes to choose from, and four different Supernatural Villains to hunt; each with its own host of unique Minions and powers to drastically change the game. A Touch of Evil is designed to create an adventurous cinematic feel as the story and game unfolds.

So grab up your Wooden Stake, stuff some shot in that Musket, and hold onto your Tri-corn Hat; no one is safe from the creatures of the night and no one can be trusted...for inside everyone lies A Touch of Evil.

"
A Touch of Evil is currently scheduled for a Fall 2008 release. We'll check back in with details of the game later this summer.

Critical Gamers Staff at
Permalink