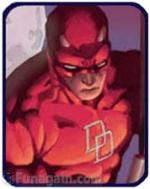 We have something to get off our collective chests. Only a few of were into comics growing up. Wow, that didn't hurt nearly as much as expected.. in fact, it felt pretty good.
It's not that comics are awful, it's just that they're.. well, short. Back in the day we spent our hard-earned money (from mowing lawns) on other things, like renting Nintendo or Genesis games, purchasing Michael Jackson cassettes, and Friday-night monkey knife fights in Pine Forest. That didn't leave much room in our finances for anything else.
But from what we undertsand about the industry, there's a funny thing happening in comic world. Sales of comic books are decreasing, yet there's a noticable remergence of old-school comics in other parts of culture. Comic hero movies are kicking-butt in the box office, and now we see that Fantasy Flight Games placed their War of the Ring designers on a new Marvel Heroes Board Game.
The War of the Ring association is more than enough to make us non-comic heads stand up and take notice. There isn't much other information about the game yet, but judging from this two part post from designer Roberto Di Meglio, the game is shaping-up to be something quite nice.
*snip*There was another challenge: we wanted to keep all the game elements consistent with the stories, but we also wanted the game to be played with different teams and villains. So every element should fit any character - how could that be? Our first design did not address this problem properly, making everything too 'generic' to be meaningful from a thematic point of view, so we had to drop it (and a few months of work with it) and start anew.

The end result of many months of thought and labor is the design that we decided to develop and publish and which I will start to describe in these previews."From A preview (part 1)" in the BGGeek Marvel Heroes Forum"

Part 1 of the forum post focuses on their design decision for the setting of the game, some information about the round mechanics, and how they hope to keep everyone engaged in the game at all times.
Part 2 of the article goes into more detail about troubleshooting "Headlines" across Manhattan, scoping out how dangerous and encounter might be, and the mechanic of player versus player conflict through the control of heroes and supervillans.
The last we heard, Marvel Heroes was set to ship in July (we heard that back in March). Considering it's now June and Fantasy Flight Games doesn't yet have an official page for the game, we think that ship date will probably slip. We'll keep an eye out for any more official information for Heroes, including a release date, and of course part 3 of the design posts.
Critical Gamers Staff at
Permalink