Magic the Gathering Injects Itself into Xbox Live June 17th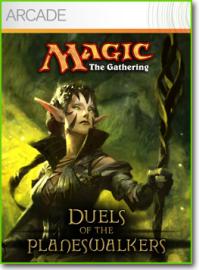 It's that time of year again: The Electronic Entertainment Expo (E3) is in full swing in Los Angeles, and with it comes gobs of news of all sorts of games. We're most interested in the extension of board games and cards games, of course, and once again there's some great news to be had.
Now we all heard before that MagicThe Gathering was heading to an XBox near you, but it was a general "sometime" announcement without much detail. Well now the details are out (in this press release) and sometime soon is actually now really soon: June 17th.
It appears the game centers around 7 pre built decks that seed your collection, and then you unlock more cards as you play. Multiplayer is included, included the Two Headed Giant fiormat for 2v2. There are even tournaments planned soon after release: one on June 20th and antoher June 27th where you can players will be able to compete against Magic the Gathering League members and Developers of the game.
The game sports a slick trailer showing the game in action ( a must-see if you found the Magic Online interface a complete travesty ) More details can be round at the Magic the Gathering Duels of Planeswalkers website, and in the product's recent press release from E3. Here's a snippet from that:
---

Developed by Stainless Games, Ltd., Duels of the Planeswalkers, rated T-Teen, lets players simulate the Magic: The Gathering trading card game through lush interactive 3-D environments. The arcade-style game takes players on a journey through a vast Multiverse of unique worlds where they are deemed Planeswalkers, powerful mages who battle others for glory, knowledge and conquest.

Players can choose to battle against the computer or compete online against real-life opponents using Microsoft's Xbox LIVE Arcade. With numerous game play scenarios, including multiplayer game mode, Duels of the Planeswalkers offers an unrivaled depth in which each game is different from the last. Wizards of the Coast is supporting this release with an exclusive promotional card, which includes brand new artwork, making Duels of the Planeswalkers a game that both new and existing Magic players will enjoy.

- New and Existing Magic Players Will Rule on Xbox LIVE(R) Arcade

---
Read More in: Collectable Card Games | Gaming News | Party Games | Variants
Share this Article with others:

Related Articles:
Came straight to this page? Visit Critical Gamers for all the latest news.
Posted by Critical Gamers Staff at June 4, 2009 1:02 PM