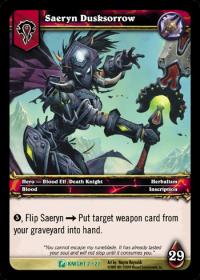 The final set of cards in the World of Warcraft TCG PvP-themed cycle is slated to hit stores at the end of June. But while the PvP stuff seems cool, with some great new keywords and abilities, the real shining star of the upcoming Fields of Honor is the introduction of the new Death Knight class. That's right - death knights are coming to the WoW TCG, and they look to be glorious.
Upper Deck has started publishing Death Knight class preview articles alongside the standard Fields of Honor set previews (below), so we can get a full look at the new plate wearing casting class before they hit your table in just a few short weeks. The variety of their roles in battle from the WoW MMORPG are very well representated, with their debuffing and tanking Frost spec, Ghoul spawning Blood spec, and sheer dps Unholy spec skills all dealing a considerable amount of hurt. Your newly formed Death Knight should be up to speed, kicking the snot out of your friends heroes despite their back catalog of cards from sets passed.
As you can see, to jump start your Death Knight Upper Deck will release a Death Knight starter set that lets you go either Horde (Blood spec) or Alliance (Frost spec) straight out of the box. We've yet to see a reference to any Unholy Death Knights, so they might not make an appearance until the Fall. Of course there could be more Death Knight heroes lurking elsewhere in the Fields of Honor set, too.
Here are some details for the Death Knight Starter, gleaned from one of the preview articles:
"So what do you get in the box? Each package comes with a 33-card Horde or Alliance Death Knight starter deck and 3 exclusive Ghoul Tokens. In addition to this, there is a bonus Death Knight pack containing another 17 cards (along with Alliance Death Knight allies if you want to change your deck to the blue side). Each non-hero card in the starter shows up twice, so you'll only need to get two copies to get full playsets of each card! As a freebie, we've even thrown in a Dark Portal starter deck in the product, so your Death Knight can begin beating down on your friends right out of the box. "
OK, enough about Death Knights for now. The set also expands upon the game in the same way as all of the previous expansion releases (the DK is just icing on the cake). Here are the official preview articles, along with details of the new card keywords: Escape Artist (Gnome Allies),
Escape Artist: When this Ally becomes targeted by an opposing card or effect, you may put it into its owner's hand
Fields of Honor is scheduled for a June 30th launch date. Oh man, that's in like 2 weeks!
Critical Gamers Staff at
Permalink