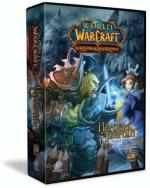 Want to get started playing the WoW TCG? Then pick up a Starter Deck and a few booster packs. Also check-out Our Review.
The official website of the World of Warcraft Trading Card Game has released two 100% complete, printable decks of for your downloading pleasure.
The demo decks
preview the Protection Warrior Dwarf named Warrax versus the omnipresent World of Warcraft media personality Ta'zo, the Fire Mage Troll.
Here's a the official line from the WoW TCG website:
Following the hugely successful, exclusive demos at Gen Con Indy, many motivated WoW TCG fans put together their own copies of the Ta'zo and Warrax demo decks. Armed with only paper, glue, and a dream, these dedicated players constructed their own makeshift demo decks to try out the WoW TCG themselves, and what they saw was good!

For the benefit of everyone else, however, we decided to make it a bit easier.

On this page, you'll be able to download the two demo decks and try out the game for yourself. Soon enough, you'll be burning with Mage abilities, or cracking skulls with Warrax's Arcanite Reaper. - From "Download WoW TCG Demo Decks Here!"
The decks come in four printable sheets each in full-color PDF formats. They can be played as-is (after some cutting), but we recommend pasting them onto higher-stock, or at least slipping them into card sleeves to avoid the wet noodle feeling of regular paper. Nobody likes a sloppy, floppy, spineless deck.
It's cool to see some of the Warrior ability cards in action, not just warrior armor and weapons. Battle Shout and Demoralizing Shout seem a bit weak, but Cleave leans into an opponent pretty hard - it allows the warrior to hit two targets, dealing each of them weapon damage +1. When you consider the warrior's weapons weigh in at 3-5 damage, Cleave can be some powerful stuff.
Once you've printed your cards, make sure you take a look through the rulebook to figure out what's up and what's down. And, as always, play WoW responsibly.
The World of Warcraft Trading Card Game is scheduled for an October 2006 release.

Critical Gamers Staff at
Permalink