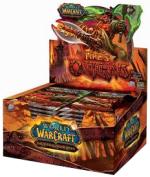 Fires of Outland [Amazon] was released to the masses on Wednesday, which means you should be passed-out in a sea of WoW TCG gaming cards by the time you read this. But the fun is only beginning when your post unwrapping marathon hang-over kicks in - your collection might be missing a few key cards that you didn't even know existed, or you might be lacking some strategic ideas on how to tune your new collection to make a strong showing at the table.
Well let's solve some of that. Here are some links for you to help you get going:
Fires of Outland - A Short Primer
Following the release of the original Heroes of Azeroth set, and the expansion Through the Dark Portal, the Fires of Outland installment continues to fill-out the standard WoW TCG classes, races, quests and equipment. There still aren't any major gameplay or mechanic changes in this latest installment; hopefully that will come when the next set hits the shelves this Fall.
Outland refers to the rugged terrain which lies beyond the infamous Dark Portal - the setting of The Burning Crusade expansion released in early 2007 for the World of Warcraft Massively Online RPG. The new WoW MMORPG expansion "Wrath of the Lich King" will bring players to a new continent set in what seems to flavored with Midgard and Vikings with a mix the Undead Infestation that is the World of Warcraft plaguelands. Could be very interesting stuff, and we hope this is what's also in store for the WoW TCG themes as we roll on into next year.
Fires of Outland is now shipping from Amazon, ToyWiz, and Funagain Games.

Critical Gamers Staff at
Permalink