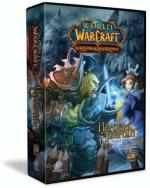 The hub for all things World of Warcraft has launched. The official World of Warcraft Trading Card Game website already has four feature articles from the game's designers. Here's where things kicked off:
"Basically, we want to give you as elegant an introduction to the TCG as possible. We're going to do this by providing you with designer and developer interviews, art features, and preview articles each and every week until the game hits the shelves. After release, WoW TCG Online will be your hub for everything about the game. We'll have info about new sets, strategy articles, and tournament reports." ~ From "The World of Warcraft TCG Website is Online!", by Anand Khare
There's more release content alongside Anand's opening pleasantries. A lot has been said about Upper Deck's ability to attract high quality artistic talent for the WoW TCG, and the website celebrates this instead of diving into game mechanics right away. The feature section includes interviews with WoW card artists Matt Dixon, and Jeremy Mohler. Also, the art gallery hosts four images of their card art, including: "Barman Shanker", portraying an orc with a broken bottle shoved in his face; "Vanquished" depicts a human protection warrior / paladin standing on a hillside littered with fallen combatants; "Seal of Wisdom" has s dwarven Paladin shocking the monkey out of a Troll priest; and we want some of what "Lorekeeper" is smoking.
Bringing up the rear, lead designer Brian Kibler has written his inaugural feature article about who he is, where he comes from, and what the plans are for the WoW TCG release.
"We have a tremendous supporting cast helping us out, all of whom are WoW players with a wide range of experience. It's not just those of us in R&D; who are WoW fanatics, either—people at every level of the process play the online game, from our customer service reps, to the product and brand managers, all the way to the head of the game development group. I get as many emails about Hunter talent builds and Raid boss strategies as I do about my actual work, and the morning water cooler conversations lean more toward stories about the previous night's battleground games than whatever might have been on television."~ From "Welcome to World of Warcraft - TCG!!", by Brian Kibler
Yikes. We thought we were addicts, but imagine playing WoW and calling it your job! We can't decide if that's a blessing or a curse that feeds a ravenous addiction. Hopefully they'll take some time to pop their heads out of the MMORPG goodness to create a high quality and entertaining TCG, too. Our fingers are crossed.
We'll keep you posted of any good updates on the WoW site as they're published.
Critical Gamers Staff at
Permalink