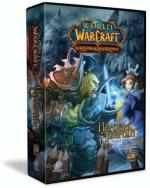 Want to get started playing the WoW TCG? Then pick up a Starter Deck and a few booster packs. Also check-out Our Review.
It's official: The World of Warcraft TCG is now in stores, and actually, should be in your living room right now. If you've cracked open your Starter Deck and sifted through a few boosters, and wonder if there are other cards in the Heroes of Azeroth Set that might be useful in flushing-out your deck, then we have a few links that might fit your fancy.
Card Databases
Wev'e found two great sites where you can browse the entire first set of WoW TCG Heroes of Azeroth cards. WowCards.org is our database of choice because it's got a slick site layout, and a nice card zoom-in feature. Meanwhile WowTCGdb is a bit bland on the eyes in comparison - with stronger empathises on a textual layout - but it let's you poke through all of the cards in each of the nine starter decks. Very nice.
Official Feature Articles
This week also marks the first in what we're sure will be a long-line of weekly feature articles from the designers of the game. Wizards of the Coast does a similar thing with its Magic the Gathering design staff, and it's created one heck of an online resource over the years. We hope the World of Warcraft team from Upper Deck keeps up what seems to be a very good first round of info:
Ryan O'Connor starts off the new series with "One Card at a Time: Parvink" which investigates the weight of card advantage on WoW TCG gameplay.
Then William Brinkman gives us the skinny on some cards you should always keep on your Heroes of Azeroth collection radar. "Lazy Peon's Perspective: Release Celebration Top 10 Commons and Uncommons" pretty much says it all.
Finally Jason Grabher-Meyer lays-down the foundation of WoW TCG ideology with "Starting from Scratch: What's a TCG?", covering the enticing elements of a TCG: Customization, Collecting, and Social Gaming. This might sound trite to some CCG veterans, but we're starting a TCG system from scratch here, and it's great to hear these things from the horse's mouth.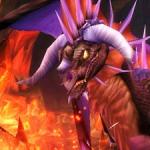 Onyxia's Raid Deck
This last bit of news isn't a link but it's exciting all the same. Upper Deck recently sent-out release emails that detail the upcoming Onyxia's Lair Raid Deck for the TCG. For those of you unfamiliar with the World of Warcraft MMORPG: Onyxia is a very, very mean Black Dragon who acts as one of the first bosses in the gamem and takes takes nearly fourty players to kill. She acts as the gateway to raid organization, cooperation, and is a stepping-stone to even more difficult battles.
Onyxia will also be the first raid boss in the WoW TCG. You and your friends can purchase an Onyxia raid deck, and instead of bashing each other's heads in the standard Player vesus Player gameplay, you can team up and bring down Onyxia together. The reward for your efforts: a special cold foiled loot deck that comes with the Onyxia boss set, which contains some powerful and rare cards. Here are the details:
The Company Line: In the charred, desolate Wyrmbog, deep in Dustwallow Marsh, lies the lair of the black dragon Onyxia. Many bands of heroes have journeyed there, only to fall under the dragon's claw. Now take on the role of Onyxia and face the latest group of heroes brave enough to challenge the Black Dragonflight. Open up a whole new facet to the World of Warcraft® Trading Card Game (TCG).

One player takes on the role of an epic foe that only multiple heroes working together can even hope to challenge. With a successful raid on Onyxia, the heroes can win the chance to crack open the enclosed "Treasure Pack" and reap spoils not found anywhere else.

Each deck includes 110 Onyxia Game Cards plus one 10-card "Treasure Pack" and three oversized Onyxia raid boss cards. This limited edition raid deck requires players to build their raid parties by using cards from the World of Warcraft® TCG: Heroes of AzerothTM.

Available to ship: Nov. 22, 2006!
That's less than a month away. Start practicing those heals!
Critical Gamers Staff at
Permalink