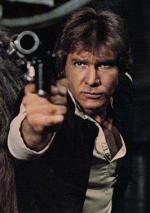 When we were 25 years younger Star Wars was everything. We had our parents take us to see the movie time nad time again, watching giddily with excited eyes as Han and Luke swatted down pesky TIE Fighters from the Falcon's turrets. We slept in Star Wars sheets, ate from our Star Wars lunch box, and even sat in attention whenever R2 and 3P0 appeared on TV to help fight the war against big tobacco.
The best part of our lazy childhoodod of the early 80''s was on Saturdays, when we'd all convene at the basement of the mother who drew the shortest straw, and reenact the battles of the movie with Kenner Action Figures and giant vehicles. We could barely lift the Faclon and the AT-AT was out of control - and that's exactly what made it so freakin' cool.
Fast forward two and half decades, and the Star Wars the Pocketmodel TCG arrives on the scene. The title isn't shipping with a starter deck, but it comes in two offerings: Star Wars Pocketmodel TCG Boosters [Amazon,Funagain] , and Pocketmodel TCG Powerup Pack [Shopzilla,Funagain] which includes a preconstructed Imperial Star Destroyer.
Now, we to be a bit critical here: the rules and the game system aren't quite as deep as we would have hoped for in a Star Wars strategic space battle offering, and the models are a 'tad small. But that isn't giong to stop us from designing our own large mass battles of Rebel fleets on hit and run raids against Star Destroyers, or pulling Crazy Wookies to spin around our YT-1300 and line up a run between the gun arcs on a Corellian Corvette. wARRnung!
Punch it.
Here are the official details: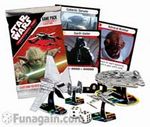 "The Star Wars PocketModel TCG combines the best features of classic TCGs with those of constructible strategy games (CSGs), a category that WizKids pioneered for kids. This TCG innovation allows players to use characters and action scenes from the movies on their cards to help control their fleets of PocketModel ships as they attempt to destroy each other's objectives. This exciting, easy-to-learn game derives its content from all six Star Wars movies, making it possible for fans of all generations to enjoy battling for control of the galaxy!

Following in the tradition of WizKids' successful Pirates CSG, no Starter is required for game play.

The Power Up Pack includes a pre-constructed Imperial Star Destroyer (not available in the booster pack). The card distribution includes 3 other ships not available in the booster packs.

"
Critical Gamers Staff at
Permalink