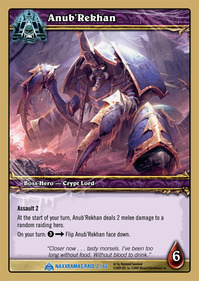 Upper Deck has started releasing previews of the upcoming release of the Naxxaramas Raid deck. The gritty details of the floating citadel of undead pain will be portrayed in raid deck form are still unknown, but finally we get a small glimpse of how things might pan out in "Introduction . . . to Doom!".
Now recall that the raid dungeon Naxxramas in World of Warcraft has four different wings within it: the Plague Quarter full of animated undead ghouls, the Military Quarter full of Death Knights, the Construct Quarter full of biological abominations, and the Arachnid Quarter full of .. well, giant demon spiders. At the top of it all are the frozen undead wyrm Sapphiron, and the lich Kel'Thuzad.
But lets not get ahead of ourselves. The previews don't want to ruin too much for the players, so they start in the Arachnid Quarter. "Introduction to ... Doom!" gives some details of powers that will be across all bosses you'll fight in that area of the dungeon, and also specifically previews Anub'Rekhan, one of the easier boss fights in the Naxxramas gamut. Also, "No Quarter" steps through how the various Quarter Abilities will work as the adventures wind their way through the various boss fights.
There are also two previews of the Treasure Cards you'll get with the Raid Deck in "Ring-a-Ding-Ding!" and "Axing Questions". These loot cards are looking mighty fine. Can't wait to get our hands on 'em!
You can stay tuned to all Naxxramas preview articles on the WoW TCG Feature Article Index. We'll let you know if anything fascinating turns up as we get closer to its release.
Critical Gamers Staff at
Permalink