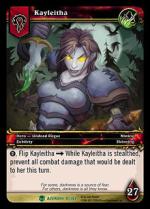 This week for TCG It's Friday we thought it's high-time we share some of the World of Warcraft Trading Card Game card combos that we've come across. Like we said in our WoW TCG review we have a quite a few players involved in the online version of World of Warcraft, and if we've learned one thing dueling other players it's this: Never, ever, ever think a Rogue is a push over just because they're wearing soft and squishy leather armor, and never ever over-commit when fighting one mano-e-mano.
Rogues are all about pouncing on you when your pants are down, and then following through with a massive burst of damage. It's the old "You're shoes untied" hoodwink-move followed by a well-placed dagger where the sun don't shine. It's enough to ruin anyone's day and we think we've found the TCG equivalent. And best yet - all of the cards are either common or uncommon which means it's something anyone can get their hands on.
From our resident Rogue expert Chris:
Here's an Ally Combo for the Horde Rogue to toss around:

1: The Base Line
Populate your deck with as many Voss Treebender and Bala Silentblade cards as you can. The 2/1 (2-Attack/1-Health) Voss has the ability "When Voss Treebender attacks, you may exhaust target hero or ally." and Bala (who is a 1/4 default) gets a +3 Attack Bonus under the condition "Bala Silentblade has +3 ATK while attacking an exhausted hero or ally." This is a great way to put a a quick 4-point One-Two combination punch against a hero or ally.

Note two things : This is a great common-combo for any class, but you might also want to have a Protector Ally in play to ensure Voss doesn't kick-it before you can put him to good use.

2: Send in the Rogue
Here is where it becomes evil. In conjunction with the Voss / Bala combo there's a low cost big damage opportunity that opens up for the Rogue. In the case that you are going after the opposing Hero, have Voss hit the Hero to both to exhaust him and to cause 2 points of damage. Next have Bala hit the exhausted hero which causes 4 more points of damage due her +3 to Attack an exhausted target. Were' up to 6 damage now in a single turn.
Now comes your Rogue Hero who's wielding a a Barman Shanker (2 Damage at a cost of 2 resources to Swing, +2 against exhausted targets). That's four more damage, so we're now up to 10 damage.

3. Poison Makes it Sting
Now that you've hit a hero for Combat damage spend 1 to play Deadly Poison (cost of 1) which reads "Attach to target hero or ally that was dealt combat damage by your hero this turn. Ongoing: At the start of your turn, your hero deals 2 nature damage to attached character." It's the gift that keeps on giving.

4. And Stay Down
By now your opponent is a little hot under the collar, but you're about make matters worse with: Crippling Poison (cost of 1) which reads "Attach to target hero or ally that was dealt combat damage by your hero this turn. Ongoing: At the start of each turn, exhaust attached character unless its controller pays 3." Looking a little woozy there.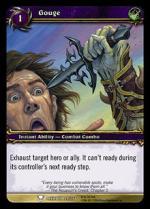 5. Not the Face!
If your opponent does chooses to get back up, then finish things off by hitting the Hero with: Gouge (cost of 1) which reads "Exhaust target hero or ally. It can't ready during its controller's next ready step." If he doesn't get back up, then gouge any protector ally standing in your way. Either way, ending with a Gouge sets-up the opposing hero for at least another hit from Bala for 4, and another hit for 4 from your Barman Shanker.

Total Damage:

Voss: 2
Bala: 4
Barman Shanker: 4

That's 10 points of damage this round, for the cost of only 2 Resources.


Aftermath:

Deadly Poison: 2 more damage next round
Crippling Poison: Make them spend 3 just to Use the Hero
Gouge: They stay exhausted for the Rogue next round!

Not bad for spending 5 Resources!


I have 4 x of the Deadly Poison, Gouge, and the Barman Shanker in my present Rogue deck, and 2 x Crippling - so this isn't a difficult combo for me to pull off. And if I ever draw an extra Shanker when I already have one in play, then that it becomes an instant resource!
Yes, yes very nice, but now we wish Chris would freakin retire that burst damage Rogue deck until we storm Onxyia's Lair. We're seriously tired of thinking we're ahead in a game against him, and then losing in just a few turns.
Critical Gamers Staff at
Permalink