December 12, 2007
Fantasy Flight games has setup a
slick teaser trailer
comprised of fantastic art stills for the upcoming
Winter Expansion [Amazon]

their strong running A Game of Thrones Collectible Card Game. The CCG is based on
Song of Ice and Fire series

of fantasy books by author George R.R. Martin. And we like them a lot.
The trailer for Winter doesn't provide many details but definitely sets the theme for the upcoming release. We're a bit confused by a countdown timer on the trailer that's hinting that more details will come on the upcoming expansion on December 22nd, but many shops already claim the set has been released to stores. Go figure.
Here's the text of the trailer in case your lazy, formatted in poetic centered italicized text form. Unfortunately it's not a Haiku, but hey - they can't all be winners:
It has been five years Of ice and fire.

Now, a white silence
falls across Westeros

Something moves in the North
In the East
Soon all will be revealed

Winter Comes
December 22nd, 2007

Prepare yourself
Nothing will be the same.
December 10, 2007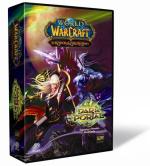 Upper Deck is cleaning stock just in time for the Holidays. For today only all at the Upper Deck Entertainment store Heroes of Azeroth Starer Decks, and Booster Boxes are 25% off. Both the inaugural raid deck Onyxia's Lair, and the second in line the Molten Core Raid Deck are also discounted, as well as all sorts of Through the Dark Portal expansion sets including Starter Decks, Booster Boxes, and even the slick Through the Dark Portal Playmat. All products can be found on sale here.
This is all due to the 12 Days of Christmas Sale across the Upper Decks store, which has snaked through and discounted all of Upper Deck products for the last 11 days. Today is day 12, and with the final day of Christmas Upper Deck focuses on the Wolrd of Warcraft Trading Card Game sale which ends today!
December 6, 2007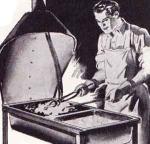 We've received quite a few questions about the new World of Warcraft TCG Player Crafted Items – specifically "How the heck do I get my hands on them? – and so we decided to make this one stop shop for all your TCG crafting needs. We break down the cards you need to collect, the items that are available to craft, and the mailing instructions on how to get them in your hands all in this easy to read reference pamphlet! So create a bookmark and enjoy.
Overview
The theme for the crafting program stems from the crafting system of the original World of Warcraft MMORPG: players in the game collect goods off of fallen monsters, or skin freashly killed animals, or pick herbs – all of which can be combined in specific formulas to produce player items. These items include Armor, Weapons, Potions, etc.
In the WoW TCG, just replace "animals" and "monsters" with Booster Packs, and there you go! Players collect trade goods cards contained within Booster Packs, and then combine them (mail them in) and UDE will award the player an item card. This first series is limited to special WoW TCG Armor cards and two Weapons which are all quite powerful, and we hope in future iterations – which there will be – the crafting will expand further, potentially releasing new potions and even stronger variety of weapon types.
The cards in the crafting system are all Purple - which means that they're super rare, epic even. . It also implies they're good, and thankfully they really really are a cut above the rest. Read on for more details.


Continue reading:
"World of Warcraft TCG Crafting Guide 2007"
November 27, 2007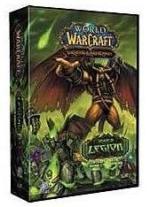 March of the Legion Starter Deck
Starter Deck [Amazon, Funagain]
March of the Legion Booster
Box of Boosters [Amazon]
Individual Booster Pack [Amazon, Funagain]
The next WoW TCG set was released over the weekend, and with it come some new keywords and new rules. Yes, just over a year after the original Heroes of Azeroth set release we finally see not just a injection of new content, but new mechanics which should add another level of interesting complexity to deck-building, and should make the gameplay a bit more dynamic than it was before.
This is definitely a good thing, because we started to get concerned that game might have stagnated otherwise. However, as of now these new rules are divided on faction lines of the new Blood Elf Scryer order versus the Aldor consisting entirely of Draenei (though these sides are neutral so Blood Elves could appear in Alliance decks and vice versa). Our concern is that these new gameplay elements will never mix, which could limit the gameiness of deck building more than it would have otherwise. We'll have more of our thoughts in a review once we've been able to put the set through its paces.
Read on for a description of the new rules, and links to every official March of the Legion feature article:

Continue reading:
"World of Warcraft TCG: March of the Legion"
November 25, 2007
Welcome to the one-stop index page for all of our Holiday Gift Guides for 2007!
We know how important it is to find the right game for the right person and so we're kicking things up a notch this year by crafting up individual guides centered around particular genres of gaming. Here you'll find links to all of our artilcles, so rest assured that you'll find the right game for the right person for some unwrapping goodness in December.
Critical Gamers' 2007 Holiday Shopping Guides
If you haven't found exactly what you're looking for then please also check out our 2006 Holiday Gift Guide. It's also chalk-full of great game ideas with staying power, many are still being played on our gaming nights even late into this year.
Looking for more amazing gift ideas? Check out our extensive set of holiday shopping guides on electronics, fashion, cooking, and more.
November 21, 2007
For more great gift ideas across all genres of games please see our
Holiday Gift Guide Index
We cap off our series of Holiday Gift ideas for 2007 with probably our most focused list: one tailored specifically for the World of Warcraft Trading Card Player.
Since you're reading this chances are you know someone who plays World of Warcraft on the computer, or you know someone into collectible card games. Either way you probably know a candidate for a World of Warcraft TCG fanatic, or someone who is one already. In this list we explore the latest and greatest WoW TCG products coming out just in time for the Holiday gift giving season, and lucky for you almost all of them fit into a stocking!

Continue reading:
"Critical Gamers 2007 Holiday Gift Guide - World of Warcraft TCG Gift Ideas"
November 19, 2007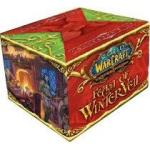 The WoW TCG has just sent out a sweet little stocking stuffer for the Holidays. The Feast of Winter Veil [Amazon, Funagain] is somewhat of a first in the line of World of Warcraft Trading Card Game releases. It's not a set, nor a raid, but instead a mini set themed release. It includes: ten rare holiday themed cards, a booster from each of the standard set releases of Heroes of Azeroth, Through the Dark Portal, and Fires of Outland, and it's all packaged in a slick little deck box with which to lug around your favorite decks.
A very nice release we might say. In fact we do say. The cards are play dynamic on the gameplay front and are very well themed for both the World of Warcraft MMORPG Feast of Winter Veil content and for the true holiday season - which makes them fun – but they're also quite useful, too. Going down the list we've all nod our heads in appreciation of how well these things fit into all of our decks. Plus a deck box carrying case to boot? Sign us up!
Here are the 10 cards in the Feast of Winter Veil mini-set: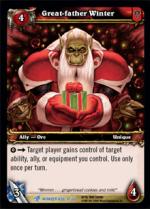 November 6, 2007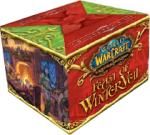 Upper Deck has reshuffled some release dates for their upcoming products. Once again another Raid Deck is delayed as Magtheridon's Lair silently slips it's scheduled release until January 2008.
It's a bummer for sure - not the end of the world but our eyelid still twitches in frustration. This "announcement" comes buried in the Upper Deck forums with no news on the official website news page, nor an article or a press release. So, last night we begrudgingly dusted off The Molten Core and attempted to rerun it with our alternates. We got smoked, so we have set a goal for ourselves to accomplish and that should keep us busy for the next few months.
We're sorry to say that some stores don't know the raid has been delayed and still list the expansion as either an October 2007 / November 2007 release, probably because they don't read the forums. And why should they? Upper Deck should be responsible and let the anxious gaming public know what's what. Blizzard doesn't pull this stuff with their original World of Warcraft franchise, nor does Fantasy Flight games with their Warcraft board game franchise. Upper Deck - once again - looks like it needs more staff in their PR department.
Anyway, the short of it: don't be fooled by any November release dates!
Here's the updated schedule:


Continue reading:
"WoW TCG Release Dates Shift: Feast of Winter Veil and March of the Legion in November, Maghteridon's Lair Delayed"
October 31, 2007

Happy Halloween folks! Today also marks the end of another month of gaming, so here's our monthly index of gaming news and reviews.
The gaming world had quite a few releases this month. Our favorite recently-released game this Fall goes to the zombie laden Last Night on Earth - which technically came out last month but we've been playing it mainly throughout the month of October. Following up as a close second is the latest Ticket to Ride: Switzerland, which is one of the better elegant Eurogame pickups to come along in quite a while.
Meanwhile we're still standing by for our blasted WoW TCG Magtheridon' Lair raid deck. Upper Deck has remained tight lipped about yet another WoW TCG release and it's really beginning to rub us the wrong way. We thirst for prerelease news and details, and this seemingly lazy handling of Magtheridon's Lair really makes our blood boil. Thankfully Fantasy Flight Games seems to be treating the other major Blizzard franchise right by previewing Starcraft the board game in a series of great articles. Heck , the game even has a trailer! That title is shaping up to be quite the looker, and it should ship in next month just in time for Holiday gift giving and the Winter gaming season.
Speaking of gift giving - the Holiday Shopping season is upon us and prepping the roll out of our annual Holiday Buyer's Guides. Look for a series of them over the next two weeks. Each one will be targeted for a particular gamer type so that you can rest assured the gift suggestion will meet the gaming styles of the giftee.
Here's our flashback at the stories of October:
What We're Currently Playing:

Board Games & Card Games

Collectible Card Games
October 17, 2007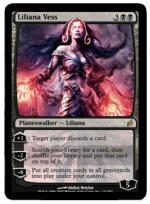 Wizards of the Coast has released the next cycle to the Magic The Gathering Collectible Card Game to stores. MTG: Lorwyn attempts to return to the roots of the franchise with a classic fantasy-centric card game, tossing off some of the other directions the game has taking over the last few years. Most notable is the fact that there's not one Human creature card in the deck.
It's not 100% classic though. First off all of the creatures are straight out of a fantasy story, including Goblins, Elves, Giants, etc – but there's not one Human Creature card in the set. Secondly there's a new card type called a Planeswalker which straddles the line of enchantment and creature, and could provided some interesting game dynamics.
While in play they can trade-off counters for performing some pretty slick abilities, like giving players card advantage, resurrecting creatures from the graveyard, etc. Each Planeswalker has three abilities, one of which has a relatively weak effect but adds counters to the 'walker in return. These counters build over time and can be spent on some of the more game changing effects. Counters are also removed when the Planeswalker takes damage – and yep, the hazy bastage dies when the last counter is removed from the card.
Each land type gets a different Planeswalker in the Lorwyn base set, but each are rare so we probably won't see too many in any series of games. However, they seem to be the flagship dynamic Lorwyn.
There's a new keyword action "Clash" as well, which pits each player in a war-draw. Both players overturn the top card of their deck, the winner of the Clash is the player who drew the card with the highest converted mana cost. If the player who played the Clash card wins, then he/she is rewarded with a little extra oomph of something special.
The complete card list can be found here on Gatherer. Read on for details on all 5 of the Lorwyn theme decks.


Continue reading:
"Magic: The Gathering Lorwyn"